Golf Essentials Guide (What to Bring to the Course)
---
Every golfer, whether they are an amateur hoping to break 80 or a professional looking to win their first tournament, are interested in upgrading the equipment they bring to the course.

As every golfer knows, picking the right gear, and having confidence in the clubs and accessories they use on the links is crucial to their success.
Golf is the most equipment-dependent sport of any amateur sport. A player, no matter their skill level, is only as good as their equipment. Playing with ill-fitting or mismatched equipment undoubtedly reduces a golfer's maximum potential and hurts their overall game.
So, how do you avoid this problem and create the golf bag that will carry you to the lowest scores of your career?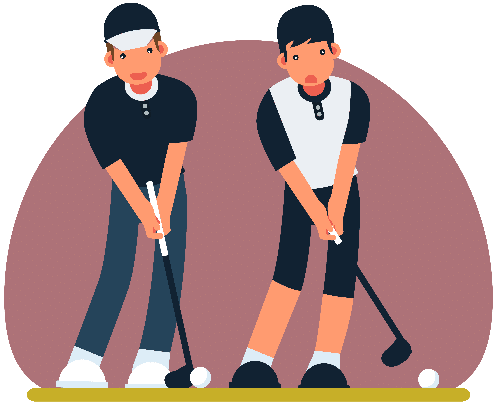 Table Of Contents
What Do Pros Use (What's in The Bag?)
CHAPTER 1
Golf Clubs
---
Fitting, and getting the right clubs has been one of, if not the most important aspect of taking your game to new heights. Yet, it is often overlooked by many golfers, often going with what is trendy at the moment, instead of embracing the importance of customizing each club. Different manufacturers might come up with alternative ideas and approaches, but in the end what's trendy boils down to just two major advances:
Center of Gravity Placement
The knowledge surrounding how the center of gravity placement will affect the golf club performance is not new. In fact, it has been the emphasis of golf club developments for decades. However, the major breakthrough in material selections, such as very heavy tungsten material, and extremely lightweight carbon fiber leads to new ways to manipulate the center of gravity placements.
Adjustability and Customization
Professional club fitters can adjust newer wedges by altering the hosel and creating higher or lower loft. Modern tour-level drivers have movable weights that customize the center of gravity placement. By lowering and deepening the CG, you can create higher drives that maximize launch angle and add distance. And that is just to name a few, we can expect many more ways to fine tune and personalize our clubs in the years to come.
Iron Sets
Finding the right set of irons can dramatically improve the game of an amateur golfer. A great iron set, like the TaylorMade M2 or the Callaway Apex CF16, can help reduce the influence of weather on the golf ball, create high launch with soft landing, and generate spin that dances on the green.
For senior golfers, mid handicappers, and beginners there are plenty of great iron sets to choose from. Not only are their forgiving irons that produce long distance, but irons that are a great buy and offer terrific value.
And for the women golfers and junior golfers out there, don't think we've forgotten about you as we've put together lists detailing the best clubs tailored to your game as well.
Whether you are into forged irons, blade irons, cavity-back irons, or you need a utility iron, we've also written comprehensive reviews of the best sets for your round of golf.
Other articles for you to enjoy look at the best irons for intermediate golfers and fans of Callaway and Ping irons, plus detailed reviews of the Wilson Ultra Irons and Callaway Strata set.
And as always, you want to find the best golf irons for your money.
Drivers
Everyone wants the best driver for their game. Even if you are a beginner, searching for that perfect club for the tee box, to play a well-made driver makes golfing worthwhile.
Some of the best drivers to consider include TaylorMade RBZ, Callaway Epic Flash, TaylorMade M4, TaylorMade R15, Callaway XR 16, Callaway Rogue Driver, and the Cobra Fly Z.
Whether you are a mid handicapper, senior golfer that needs extra from their #1 wood, needing to cure a slice, looking for a forgiving driver, prefer one from either TaylorMade or Callaway, looking for a distance boosting driver or more loft with your top club there are plenty of resources to narrow your choices.
If you are wanting to add a longtime popular driver that ranks among the best all-time, regardless of whether you are a man or woman golfer, there is plenty of information on Golf Influence to help you decide.
Fairway Woods
For the golf bag, another club that ranks among the top golf essentials is a well-crafted fairway wood. The best 3-woods always have representation from TaylorMade, like the SIM fairway wood, and Callaway with their Mavrik. Same holds true when looking at the best 5 woods on the market today. All are great for adding length while playing each round, making them a must-own golf club when going for the green.
Hybrids
Much like fairway woods, hybrids are great for seniors that prefer updated gear that could boost their length and improve their accuracy. A great tool for making long shots easier, the best hybrids will never cause the player to lose golf balls on the course.
Irons
Much like fairway woods, hybrids are great for seniors that prefer updated gear that could boost their length and improve their accuracy. A great tool for making long shots easier, the best hybrids will never cause the player to los
If you are in need of some help to find more greens during each round, an ultimate guide to finding the best game-improvement irons can certainly weed out the bad golf clubs.
For players that believe a utility iron is a must carry for golf items, find that although difficult to hit, they do add length and complexity to anyone's game making it an important club to consider adding to the bag.
Finally, TaylorMade has long made outstanding irons like the P770, and for players looking for the best advanced clubs that always provide better contact while offering a low price making them affordable and a great buy.
Some of the best irons to consider include Cleveland Launcher UHX Irons.
Wedges
For better pitch shots or play from the sand, it is wise to get one of the best wedges on the market. Regardless of your skill level, let's say you are a mid handicapper looking to improve your pitch shots, a wedge approved by PGA pros is a great way to advance your game around the green.
Must own wedges include the XE1, Callaway Mack Daddy 2, Callaway JAWS MD5, Strike Square Wedge, Cleveland CBX 2, and C3i Wedge.
Finding one wedge could lead you to buy a pair to fill out your set. Pitching wedges, gap wedges, lob wedges, and sand wedges; one for better bunker play and another to help you if you are a beginner looking to add more lift to your game.
Putters
When it comes to flatsticks, we've got you covered over at Golf Influence. From mallet putters to blade putters, we've written thousands of words covering the best putters on the market today. If you are looking to upgrade a putter grip, add a forgiving putter or a toe hang mallet putter to your bag, or tinker with a center shafted putter, reading these articles can help ensure that you will find the one to always pack in your golf bag.
For fans of all-time lists, we're also featuring the eight best putters of all time, the best Odyssey putters, and the best models for high handicappers and beginners, plus women who love spending time on the links marking your golf ball.
Finally, putters like the GX7 shine when compared to other flatsticks.
CHAPTER 1
CHAPTER 2
Golf Balls
---
Let us begin by stating fact: not all golf balls are created the same. Seemingly obvious, it is often overlooked by many beginners and professionals alike.
Just because a certain ball like the Titleist Pro V1, Titleist Tour Soft, TaylorMade TP5, or Titleist AVX, doesn't necessarily mean it will be the best choice for you. Other golf balls are designated for better players with a premium, for value seekers, or even golf balls with low spin off the tee, can help players of any skill level.
Golfers needing a golf ball for distance or to help lower their scores because they are a beginner or high handicapper will find plenty of articles on the Golf Influence site. Same goes for average golfers, seniors and women golfers looking to increase their distance and touch around the greens, higher swing speeds, and will lose its benefits, or even become not optimal in the hands of players with slower swing speeds.
Thus, choosing the right ball (including practice balls) that suits your current level, swing speeds, swing arcs, and your overall playstyle can significantly improve your game to new heights. It is understandable that with so many brands like TaylorMade or Titleist, types, and features available in the market, choosing the right one can be a daunting task. Golf balls are essential to getting you to a lower score: quality balls go further and react better on impact.
CHAPTER 3
What to Wear
---
What Should Men Wear?
All male players should consider finding an ensemble that is important for how they want to play their round. Always finding the right sunglasses, golf pants, bucket hats, shorts, and regular golf hats ranks high among the golf essentials for playing 18 holes.
What Should Women Wear?
In addition to all of the accessories that males wear, female players should find a great shirt that encourages style and full body movement with their swinging motion.
What Not to Wear
All players should know the club rules about what is acceptable dress for their day on the links. Proper attire is among the essentials that every golfer needs to consider before making their way to the first tee.
CHAPTER 4
Accessories
---
Finding the top golf accessories ranks high among the essentials you need to upgrade for the course. While you might not find the best band aids to soothe the blisters on your hands or the top lip balm to protect your lips from the sun, you will discover the top golf glove, best push cart, and the best towel to attach to your golf bag.
For golfing, these essential accessories are vital to reducing distraction and focusing instead on grabbing the tool from your bag that can solve any problem at any time. By taking inventory of your golf bag, you can build a group of essentials that will leave you never needing help on the golf course.
From wooden tees to golf gloves to the best umbrella and sunscreen to take to golf courses, we cover it all in our golf accessories articles.
Well, we've created an exhaustive list of the golf essentials and items you need to conquer the golf course. Every item is covered on this list from the best golf ball for your game to ideal golf bags that will store everything you need for your round.
Important Golf Accessories
Other golf essentials include accessories that make the player better on the course. Items such as the best accessories, best gadgets, gloves that help control sweat and humid weather, plus finding the best umbrella is extra important when playing.
When on the green, always carry a divot tool, and clean out and sharpen your grooves with a specialized groove sharpening tool. If you lose a ball in the water, but can rescue it, a well-made ball retriever can save the ball without getting wet.
For practice time, a golf net in the backyard can help groove your pitch and chip shots, along with a home-ready indoor putting green, you'll find that your skills around the green come in handy to lowering your scores.
Golf Shoes
The best modern golf shoes offer superior comfort regardless of whether you wear spiked or waterproof shoes. Replacing the spikes is also easy these days and an import accessory to always carry any of your favorite courses.
Golf Swing Trainers & Simulators
The price of swing trainers has dramatically dropped in recent years allowing players to set up home studios that feature the best golf swing analyzers and best golf simulators. A dual device like the Optishot 2 offers the ability to play and practice all from the comfort of your own home.
Golf Course Essentials
Essential golf essentials that players need to pack in their bag include:
water bottle
umbrella
sunscreen
a glove
tees
lip balm
…and plenty of other essentials for the course that you can't do without during a round of play.
Towels
The best golf towels offer maximum absorption, remove sweat and grime from the players hands, and keep the sun from your eyes. A long golf towel is great for a bag because it can quickly clean a ball, clubs, or extra accessories.
Great for a push cart or a riding cart, a towel is an indispensable tool that works better in a pair, although some players like to pack up to three towels in their kit.
Rangefinders & GPS Devices
Technology has moved the game of golf forward with rangefinders and GPS devices helping weekend warriors find the right yardage to any important shot on the course. Using the right golf clubs for each shot can only help get the ball closer to the pin.
GPS Apps, GPS Watches, and Rangefinders can all take the guesswork out of finding the yardage, helping to ensure that you never miss another yardage again on any courses you come to play.
Rangefinders like the TecTecTec VPRO500S have climbed to the top of the popularity charts with precision accuracy on balls that you hit, plus are small enough to safely ride in your bag.
Golf Bags
A top golf bag can revolutionize the golfing experience for a beginning or inexperienced player. With a new bag that can travel or is great for walking the course on a Sunday, regardless if you are a man or woman player, the best option allows you to pack more accessories and never allowing you to forget your favorite ball.
Cart bags offer extra storage with three pockets on each side of the bag to store extra balls, accessories like sun protection products, like sunscreen all from the comfort of riding in the cart.
Extra pockets are never a bad idea in a golf bag, allowing weekend warriors to take extra socks, sun protection, golf cart heaters, and golf balls.
Push Carts
For players that love to walk their course, a push cart that can hold a bag to carry a towel or towels, bottle, set of clubs, while carrying extra things like a pack of socks and rain gear is a big help on the links, and one of the top golf essentials that an amateur can buy for their collection.
Golf Tees
The top golf tees on the market today come in bags of 50, 100, and 200. From long tees to short tees, you should never put yourself in a position where you run out of extra tees when you need one to speed up play during your round.
CHAPTER 5
What Do Pros Use (What's in The Bag?)
---
Every golfer loves playing with the same equipment and apparel of their favorite golfer. In the late 1990s and early 2000s, serious golfers had a red shirt in their closet, just like Tiger Woods.
We've put together over a dozen articles together on the site that show what golf clubs, golf balls, and other accessories that the best professionals on the PGA Tour are playing currently.
These "What's in the Bag?" articles, otherwise known as WITB articles, provide excellent information if you are interested in adding new balls or the clubs of your favorite professional player to your golf bag.
Golfers such as Justin Rose, Jordan Spieth, Dustin Johnson, Xander Schauffele, Brooks Koepka, Jason Day, Luke List, Rory McIlroy, Matt Kuchar, Hideki Matsuyama, Rickie Fowler, Cameron Champ, Tommy Fleetwood, and Justin Thomas are also represented in our expansive WITB section.
CHAPTER 6
Conclusion
---
Playing with the right golfing essentials, whether it is a better bag or a sleeve of three new and improved golf balls, will help improve the enjoyment of another round for many years to come.