Golf Skills: Here's What You Need To Know To Be A Great Golfer
---
Every golfer wants to improve their game, but many do not understand where they need to start. While many weekend warriors turn to coaches for help, others want the challenge of working on their skill set by themselves.

But going on that journey alone can become a technical nightmare without the proper guidance and skill development.

At Golf Influence, we have created several articles in three major areas of skill improvement to help you increase your understanding of the sport and create a plan for boosting confidence and addressing areas that need the most practice.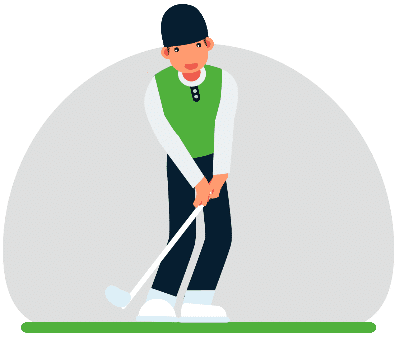 What You Will Learn In This Post
CHAPTER 1
Essential Skills to Know
---
When starting from scratch, you can easily take the wrong path to learning this great game.

While on the outside, golf looks like it is simply just hitting the ball toward the hole, there are so many more aspects to help amateurs learn the proper way to grip and swing the club.

So where to start?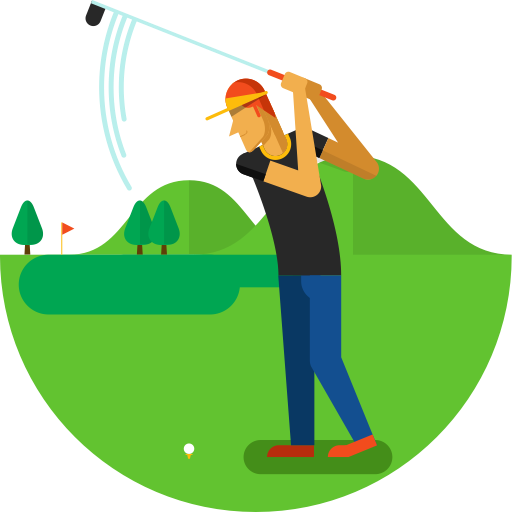 How to Play Golf
Our article titled, How to Play Golf, remains one of the best articles on our website to learn proper fundamentals, understand the rules, and realize the important areas of golfing. In the step-by-step article, you'll receive a complete guide on how to find the right equipment, score your round, target the focus areas that you'll need to begin your golfing journey, and understand how to play the correct way.
Every golfer needs help with their skills when they begin playing, and this guide teaches details such as body position at address, how to avoid poor mental mistakes, and the best way to prepare every day.
How to Grip A Club
In How to Grip a Club, we'll start at the beginning, showing you the proper way to hold your golf clubs. Golfers can easily throw off their approach to hitting the ball off the ground with the wrong grip. Developing the right method, striking an accord between strength and balance, can build a foundation that will stand the test of time.
In case you're wondering, learn how much it costs to regrip golf clubs.
How to Hit a Golf Ball
Throughout our piece on How to Hit a Golf Ball, you'll discover the best way to approach shots with each of your clubs. Whether it be with a driver or iron, we'll provide technical guidance that minimizes the time you need to spend developing the skills to strike the ball, instead allowing you to believe in your ability to improve with more complicated practice drills.
Another aspect of the article worth noting is how players need to shift their weight through the backswing and downswing. If the weight stays stuck on the back leg, the player can lose the ability to transfer power, causing ugly hits that rob feel and response.
How to Stop Topping the Ball
If you seemingly cannot stop from mis-hitting the ball by topping it, we've developed a strategy in an article we've titled, How to Stop Topping the Ball, to help you create more consistent, solid contact with your golf balls and the ground.
Along with a published checklist that you can download from the Golf Influence website, our article helps you get back your confidence with a part-by-part look at how swings can break down. By regaining your feel for the shot, you could easily repair your hiccup and begin smashing shots all over the course in no time at all.
Phil Mickelson tells you, "the only way to win tournaments is with the short game. Over half your shots out here are within 30 or 40 yards." And yet most golfers spend all their practice time at the driving range hitting full shots.

I suggest devoting at least half of your available practice time to the scoring game: chipping, pitching and putting. Sure, pounding drives is fun, but if you want to write better scores on your card, you've got to learn how to score!
CHAPTER 2
Strategies
---
After learning how to grip your golf clubs and hit your golf balls, developing a fine skill to help you lower your scores is another essential aspect of the game.

We've created three articles on the website to begin our "Strategies" section to help you fine-tune your swings, manufacture the best workout sessions for bettering your skillset around practice, and a host of chipping drills to open your thoughts of how to build your short game.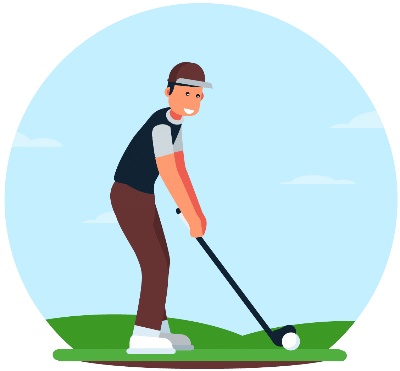 Building a Golf Workout
Our website piece titled, 9 Golf Workouts That Will Improve Your Game Tremendously, will free your time at the practice facility by offering several easy-to-follow outlines to improve your concentration and focus around the green.
Golfers who focus the majority of their practice sessions close to the greens typically make the more dramatic leaps in feel and touch with wedges and short irons.
Chipping Drills
Our terrific skill article on improving your short game, 17 Chipping Drills for Every Situation, covers every shot that you will face on the course. From chips to pitches, each skill in the article is accompanied by a drill to teach you tempo, speed, and control when the ball hits the putting surface.
Improving Your Golf Swing
Even though your game might be pretty good at the moment, it can always be better. Our article on How to Improve Your Swing will boost that skill base you've created thus far, providing new drills and strategies to help you think bigger and better with how much you achieve.
When you know what shots to hit on the course without needing the time to deliberate, you have found a place in your golfing journey that brings enjoyment and fills your mind with clear thoughts for how to attack the cup.
CHAPTER 3
Advanced Strategies
---
If you're looking to make the leap to the next level, we have created several related posts to help you get better.

From creating the ability to craft shot shape to developing functional swings that lasts a lifetime, we have three articles for accomplished players looking to gain focus for taking down their personal best score next time they hit the course.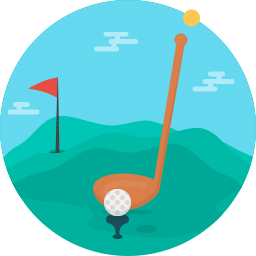 How to Draw the Ball
Several advantages await the golfer that can regularly hit a draw. From landing the ball in a specific target area on the fairway or green to helping save a wayward drive with a low draw onto the putting surface, building fundamentals that can draw the golf ball offers an important skill to have in your repertoire.
In our article, How to Draw the Golf Ball, we lay out our thoughts on how to spend your time to develop a controllable draw that will open up the golf course in a brand new way.
How to Break 80
Every golfer wants to break a scoring threshold in their time playing golf. For the advanced player, breaking 80 remains one of the top goals to focus their energy.
Our four-chapter article outlining How to Break 80 trims away the fat, providing you with essential tips and drills that allow you to free your mind and focus solely on the strategies that will give you the ability to reach that milestone of breaking 80.
Developing Your Swing Plane
Creating either a one-or two-plane swing has become the rage among advanced golfers. While pros like Bryson DeChambeau believe that mastering the one-plane approach has unlocked their potential, other successful golfers, such as Tiger Woods, still use the two-plane method to generate power and accuracy.
In our piece on The Perfect Golf Swing Plane, we break down the difference between the two approaches and provide practice tips that will increase each skill, adding consistency to your game.
CHAPTER 4
Etiquette
---
If you're looking to make the leap to the next level, we have created several related posts to help you get better.

From creating the ability to craft shot shape to developing functional swings that lasts a lifetime, we have three articles for accomplished players looking to gain focus for taking down their personal best score next time they hit the course.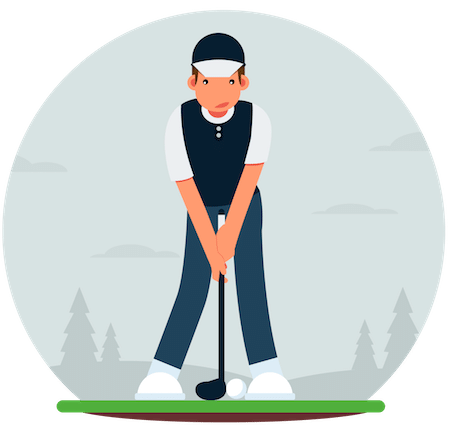 Driving Range For Beginners
For beginners, one of the most overwhelming hills to climb is how to begin a practice routine at the golf course. Rather than just going out and hitting bucket after bucket of balls with no purpose, we've taken the time to write down a helpful guide of 13 essential tips to help you develop your skills, while having a great time at the practice facility.
In 13 Driving Range Tips for Beginners, you'll find guidance on our website to assist in creating muscle memory that carries onto the course and management drills that will have you practicing like you play on each hole.
Written to help you think about your overall approach, the article provides expert thoughts on how to make the right impact on your skill set through practice.
Golf Tips For the Serious Player
When it's time to take the leap from practice to performance, there are several shortcuts available to help you shave the learning curve to increase confidence and reduce the time to develop those important skills.
Our website article, the 17 Best Golf Tips, offers a crisp, clean read that clearly defines easy ways to help you develop golfing skills quickly. By finding focus, you can train on the aspects of your skill set that you'll need the most on the course.
From long to short game strategies, you'll find lessons on how to create tempo, the right way to address the golf ball, how to increase swing speed, and the proper way to control a long-distance putt like Tiger Woods, and many more outstanding tips to shift your focus from guessing to knowing how to play this great sport.