How Much Does it Cost to Regrip Golf Clubs?
---
One of the biggest blind spots that golfers have when it comes to their clubs is replacing their grips. We suggest that your clubs should be regripped every 40 rounds to reinstate the original tack that helps your hands cling to your golf clubs without slipping.

Of course, most golfers would rather wait it out than deal with the hassle, even if it costs them a few strokes.
But for serious golfers that want the most from their golf clubs, a trip to any of the many golf shops that regrip clubs can instantly restore that.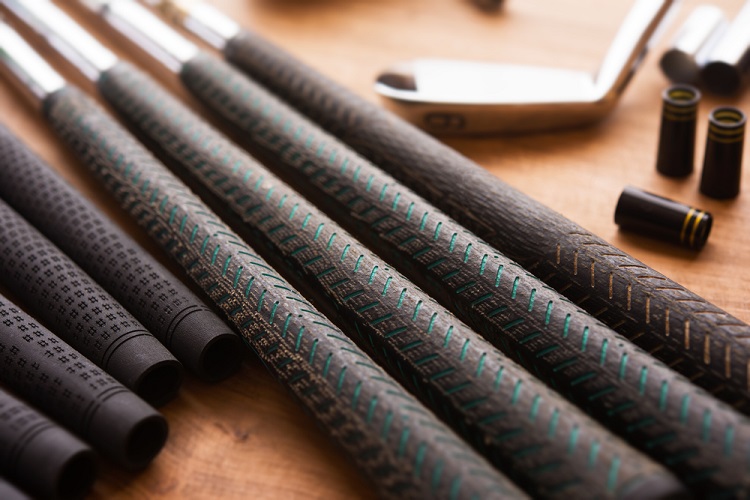 What You Will Learn In This Post
CHAPTER 1
How Much Does it Cost to Regrip Golf Clubs?
---
A full set of clubs can be regripped for around $100-200. The cost of each grip depends on the quality of the product that you are installing on the golf clubs.
The cost of the installation process does not cover the price of a clean, fresh golf club grip but does cover the cost of labor and materials, such as new tape that helps secure the grip onto the shaft.
Materials like grip tape remain relatively inexpensive, but the price incurred with having someone expertly place it around the shaft to maximize grip is vitally important.
In the end, the average cost to regripping golf clubs depends solely upon the number of clubs you choose to restore. Most golf superstores will re-grip on-site and will only take a few minutes per club, making their locations a great choice for wrapping.
For players that frequent their local golf clubs, their professional could help with re-gripping if they offer that service to their members.
CHAPTER 2
Reasons to Regrip Your Golf Clubs
---
There are two big reasons why players should make the decision to replace their current grip set. The first is due to age, the next is due to the loss of tackiness on the surface of the grip.
Age
One of the biggest reasons to get your golf club regripped is due to age. Most grips, especially softer grips, become hard and slick over time. To prevent a loss of quality, players need to seriously evaluate each grip on their set looking for degradation and decay.
If you have gone more than a few years without swapping out your grips, then you should ask the professional at your golf shop for a fresh set.
Loss of Tack
Tack, or the stickiness provided by grips, helps weekend warriors hold the club with more authority. On tacky grips by companies such as Golf Pride, players can swing as hard as possible without the club flying out of their hand.
A new grip will instantly recover the tackiness that most grips lose with normal wear and tear. When looking at your golf club grips closely, take the time to examine the tack and if each grip has become worn and slippery.
CHAPTER 3
When To Regrip Your Golf Clubs
---
There are two relatively hidden reasons why you should re-grip your clubs, both may add a little cost to your overall golf expenditures for the year but are well worth the effort if you find yourself in either situation.
Loss of Confidence
One of the best reasons to take your clubs in for fresh grips is due to lack of confidence in the grips continuing to perform at a high level. While it may seem slight, the only part that you can control is the quality of your grips.
If you find that your shotmaking has lost its edge, a simple adjustment of your golf club grips can do the trick.
Poor Installation
Let's say that you tried to grip your clubs on your own and frankly, you did not do a great job. Perhaps the golf club grips are off-center, or misaligned.
Rather than endure your own mistake and suffer on the golf course, you should spend the money to get your clubs right with a high-grade set of grips.
For the sake of your golf game, finding a smart, capable professional to reinstall some top-tier golf grips can help get your swing back on track.
CHAPTER 4
Frequently Asked Questions
---
Is it worth it to Regrip golf clubs?
Yes, the best way to restore your golf club and give them new life while offering an easy way to improve your game is when you take the steps to regrip your golf clubs.
New golf gear can be incredibly expensive, but the cost of putting fresh standard grips on your older golf clubs is a modest one.
The biggest reason why you should re-grip your clubs is that a new grip can add tack, stability, and overall performance to your older club. Rather than the club sliding in your hand, fresh golf grips help anchor the club against the fingers and palm.
Any sliding can create either an open or closed face when hitting the golf ball at impact. Either scenario creates slices and hooks, something very easily avoidable with a simple golf club regrip.
Another great reason to regrip your clubs is that the average cost to regrip is not burdensome. The average cost of regripping a club can run anywhere from $10-20 per club, based on the cost of the grips.
For a little extra money, you can play the grips that most PGA Tour professionals play, including the top-tier models from companies like Golf Pride.
Can I regrip my own golf clubs?
Yes, you can re-grip your own clubs, but you will need some specific materials to achieve the task.
Along with a vice, or something to secure the golf club, you'll need new double-sided tape, a cutting device to remove the grips, new grips, and mineral spirits to slide the grip onto the shaft.
While that might be far more material than would expect you need to get your clubs re-gripped, to safely remove and replace the old, current grips, the list is quite necessary to safely perform the job.
Perhaps the biggest concern when replacing your own grips is using a sharp blade to remove the old grips. Some corded grips can be tricky during removal and the blade can snag if it is not high-quality and sharp.
For the most convenience, you can replace an old grip quickly at your local golf shop. The professional help on staff will usually have all the materials and tools they need to make a replacement painless.
Most stores and clubs can replace your grip and have you ready to go within a few minutes. For a whole set, the golf shop may request that you leave your clubs for a few hours.
How often should you change your golf grips?
While there are many factors to consider before you change your golf grips, the final decision should be made based either upon the current condition of your grips or the amount of time that has passed between your last trip to the local golf shop for a regripping.
If you have cheap grips, you can expect that they will wear down faster than new grips from a company such as Golf Pride. By paying for a re-grip, the regular golfer can see a dramatic improvement in the quality of their shotmaking.
If you are a frequent golfer, you should replace the existing grip on your golf club every year. Golf enthusiasts, those that play more than once per week, will find the best performance comes from swapping out golf grips for their entire set every six months.
Another good rule of thumb for regripping is replacing the old grips every 40 rounds. For the beginner player, having new grips while you wear gloves will help you hold the club and grip properly.
Once you have your clubs regripped, you'll find that the new grips provide more tack and stability to your golf swing.