The Rundown:
Best Overall: TaylorMade Tour Preferred Flex Golf Glove
"An absolutely well-made glove, the TaylorMade Tour Preferred Flex Golf Glove features dynamic nylon insert to increase flexibility and stretch with venting holes that provide exceptional breathability."
Best All Leather Option: Callaway Dawn Patrol Golf Glove
"The Callaway Dawn Patrol is 100% high-end cabretta leather. If you want a super comfortable leather glove that's going to do the job at a reasonable price, get this model."
Best For Sweaty Hands: Finger Ten Men's Golf Glove
"This Finger Ten glove is made of synthetic fabric for use on rainy or hot days, when your hands get wet. The best model for wet performance, thanks its microfiber that will keep your hands dry while still allowing a strong grip."
Check Other Models on GlobalGolf
Golf gloves are a ubiquitous presence in the game of golf, but aren't talked about nearly as much as most other pieces of equipment (like golf shorts) that golfers use.
It's pretty much assumed that you'll wear a glove on your lead hand, and that cabretta leather is the gold standard in golf glove construction.
But there's a surprising variety of gloves available on the market, and it can be confusing when you look at all the options: there's more to it than simply finding the right size.
Let's look at what you need to know to make an informed buying decision for the best golf gloves for grip & comfort.

19
Sources researched

17,643
Customer reviews

57
Hours spent testing

9
Products tested
Featured Recommendations
Feature 1
4-way stretch nylon insert
100% cabretta leather construction
Best For Most Golfers
Feature 1
4-way stretch nylon insert
Best All Leather Option
Feature 1
100% cabretta leather construction
Last updated on 2022-01-25. The links are affiliate links. Product images are served from Amazon Product Advertising API.
A glove should provide tackiness beyond what human skin can achieve. Since an ideal grip pressure is "as if you're holding a baby bird", you may need a little bit of assistance to maintain a light grip pressure while still having good control of the golf club.
The ideal glove should be flexible, comfortable, durable, and useful in many different conditions. There are also specialty gloves made for playing extreme conditions like heavy rain or cold.
We've tested traditional cabretta leather gloves as well as gloves made of synthetic materials, multi-compound gloves with synthetics and leather together, rain gloves, winter gloves, and some gloves that are thinking outside the box.
This article will help you figure out what glove will suit your game and the conditions under which you play.
Best Golf Gloves in 2022
Here are the golf gloves we recommend:
TaylorMade Tour Preferred Flex Golf Glove
Our Top Pick For Most Golfers: Best fit for golf glove with excellent tackiness and grip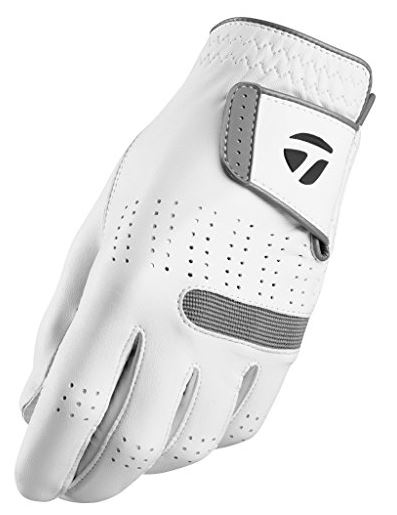 Check Price on Global Golf
KEY FEATURES
4-way stretch nylon insert helps expand the glove for better fit
Outstanding venting with plenty of perforation along fingers and top of hand
Contoured wrist helps craft glove that fits closely to the hand with maximum comfort
The TaylorMade Tour Preferred Flex Golf Glove provides you with a slender shape that molds to your hand while giving you marvelous flexibility and breathability.
Callaway Dawn Patrol Golf Glove
Best No-Risk Option: Classic all-leather construction for great grip and feel
Check Price on Global Golf
Callaway Dawn Patrol golf glove is a true classic: it's 100% cabretta leather construction is the kind of glove I grew up with and still enjoys worldwide popularity.
It's reminiscent of the classic FootJoy Sta Sof leather glove but offers the same high level of performance at a much lower price tag.
Finger Ten Rain Grip Golf Glove
Best For Wet or Sweaty Hands: Hydrophobic kangaroo leather for rainy days

Check Price on Amazon
Check Best Price on eBay.com
KEY FEATURES
Better-than-leather grip in wet conditions
Dries fast on hot, sweaty days
The Finger Ten Men's Golf Glove is a synthetic mesh glove designed to be used on rainy or particularly hot days when your hands are likely to get wet.
The mesh material they're constructed of wicks moisture from your hands and dries quickly, so if you're prone to sweating a lot on hot days, these are worth a look.
Callaway Opti-Color Leather Golf Glove
Best For Color Options: Good performance and a wide variety of color options

Check Price on Amazon
Check Best Price on eBay.com
KEY FEATURES
Comfortable and soft
Lots of different colors available
The Callaway Opti-Color Leather Golf Glove is essentially the Dawn Patrol glove reviewed above, but available in numerous color options.
MG DynaGrip All-Cabretta Leather Golf Glove
Best Value For Money: Soft feel but some durability issues

Check Price on Amazon
Check Best Price on eBay.com
KEY FEATURES
The price is right
Soft cabretta leather
MG Golf brings us their DynaGrip all-cabretta leather glove at a price point that's unparalleled for an all-leather glove.
Most gloves under $10 are made with cheap synthetic fabrics that don't provide much grip. The MG DynaGrip is all-leather and feels much better than the competitors in the under-$10 category.
Bionic StableGrip Golf Glove
Best For Advanced Golfers: Odd-feeling glove can help reduce grip pressure

Check Price on Amazon
Check Best Price on eBay.com
KEY FEATURES
Innovative design to help reduce grip pressure
Durable
Lycra between the fingers improves breathability
Helpful for arthritis sufferers
The Bionic StableGrip Golf Glove is the oddest duck in this year's review lineup.
Definitely a product of outside-of-the-box thinking, it's got pads built into the fingers and palm of the glove to help distribute and reduce grip pressure.
The pads immediately feel awkward but if you're someone who struggles with overly tight grip pressure, the Bionic StableGrip might be worth fighting past the initial awkward feeling.
Under Armour CoolSwitch Golf Glove
Best Innovative Golf Gloves: Innovative Inner Coating Cool Your Hands

Check Price on Amazon
Check Best Price on eBay.com
KEY FEATURES
Glove actively cools your hand on a hot day
Highly sweat-wicking
Under Armour continues its pattern of introducing progressive ideas into the golf industry with the CoolSwitch Golf Glove.
There's a coating on the interior of the glove that's designed to draw heat from the skin and cool the hand underneath, which is highly useful on a hot day with the sun beating down.
FootJoy RainGrip Golf Gloves – Pair
Exclusively For Rain: Great grip soaking wet

Check Price on Amazon
Check Price on Global Golf
KEY FEATURES
Incredible performance in the rain
Comes as a pair so neither hand will slip
Better performance the wetter they get
Good for cool weather play
I want to be clear: the FootJoy RainGrip Golf Gloves are specifically for use in the rain or when it's quite cold out. When it's dry, I'd suggest going with a glove that has a leather grip.
The 97.2 overall rating specifically applies only to the FootJoy RainGrip gloves in the conditions they're meant for: rainy day golf.
But boy do they ever work! The FootJoy RainGrip get better as they get wetter. I like to carry a pair of them all the time and put my leather glove away as soon as rain starts.
Finger Ten Synthetic Leather Junior Golf Glove
Best For Junior Golfers: Solid, durable glove in junior sizes that won't break the bank

Check Price on Amazon
Check Best Price on eBay.com
KEY FEATURES
Multiple junior size options
Good in all weather conditions
Funky color options
Comes in a 2-pack for better value
Finger Ten knows that there's a market out there for junior golf equipment, and the synthetic leather junior glove is here to fill a need.
It's a well-made, durable glove that will last a good long time and will help protect your child's hand from blistering too much. And the grip it offers is pretty good, which is important.
You don't want to catch a driver upside the chin because your child had trouble holding onto their club.
---
Testing Protocol & Criteria Used For Evaluation
Criteria 1: Comfort
Golf gloves should be extremely comfortable. You shouldn't notice its presence or have to constantly readjust it.
There should be no break-in time required: you should be able to open the package and have a great feeling glove from day one.
Criteria 2: Grip
Golf gloves should improve your grip on the golf club. If you put on your glove and the club suddenly feels more slippery, then it's a pretty bad glove!
The two main reasons to wear golf gloves are to improve your grip and to eliminate blisters, with grip being the most important by a long shot.
Criteria 3: Durability
Golf Gloves are fairly inexpensive, but you still want a glove that'll last. If your golf gloves are worn down and showing holes after just a few rounds, the expense of replacements can start to add up.
Are budget-friendly golf gloves really worth it? If golf gloves save you a few bucks but lasts half as long, you're not really saving any money.
Criteria 4: Technology
Does the glove effectively use technology? Some golf gloves manufacturers stick to the tried and true all-leather construction, but others are all about advancing the glove with space-age fabrics and other advancements designed to improve comfort and grip.
Do these work? Are they worth the price? This criterion will rate how well the glove's design impacts its performance.
Criteria 5: Fit
I know my glove size: cadet large. That means my hands are size Large, but my fingers are slightly shorter than standard size Large gloves. Because I know my size, I can often save some money by ordering gloves in bulk online.
However, sometimes I'll get a batch of Cadet Large gloves that just don't fit right. Since glove size is supposed to be universal across brands, the fit rating reflects how well they adhere to these sizes.
If you don't know your size, go to a golf or sporting goods stores and try some on! There's a right size for everyone, whether it's ML (Medium Large) or a Cadet variation.
Most gloves have packaging that allows you to try the glove on before you buy it. And ideally every manufacturer's size will be consistent. An ill-fitting glove is an unnecessary distraction on the golf course.
---
Questions & Answers
What are the different types of materials used to make golf gloves?
Most gloves, especially those used on tour, are made primarily of cabretta leather. Cabretta is a sheepskin leather made from sheep who grow hair instead of wool. It's soft, tacky and durable.
Other modern gloves will add in lycra or other synthetic touches to make the glove more flexible. Most of these hybrid or compound grips still have cabretta on all the places where you're actually touching the club.
The Hirzl glove reviewed above uses Kangaroo leather in the grip to make it perform better in the rain. There are also fully synthetic rain gloves that perform very well.
Fully synthetic gloves are available but generally don't have the soft feel combined with tackiness and snug fit that leather gloves provide.
Which hand should wear the glove?
Unless you opt to wear gloves on both hands like Tommy Gainey, you'll want to wear the glove on your lead hand: the left hand for right-handed golfers and vice versa for lefties. The lead hand has much more friction during the swing and more impact on grip pressure.
A bad swing will often result in a one-handed follow-through, and you'll want your glove on that hand if you want to hang onto the club. Having a glove on your lead hand will also help prevent painful blisters and calluses.
What gloves provide excellent grip?
Until they come up with a synthetic that can match it, cabretta leather will remain the gold standard in golf gloves for the foreseeable future. It provides the best grip and the best feel.
How do I know if a golf glove fits me well?
Your glove should be snug but not too snug, tight on your hand but not restrictively so. It should feel like a second skin.
There shouldn't be any loose fabric, but your hand also should be free to move as if it wasn't wearing a glove.
What specific features of a golf glove should I look for?
First and foremost, the glove should fit well. Once you've got a glove that fits so well you barely notice you're wearing it, you'll want to be sure it's got a nice tacky grip.
A good glove will hold onto the golf club well so you don't have to exert a high amount of grip pressure to keep the club from slipping during your swing.
I like a mostly leather glove that has some flexible lycra accents that make it stretchy and flexible. This allows for a tight fit but still maximum freedom of motion.
The leather should be thin enough to provide great feel, but thick enough so that it won't tear midway through a round.
For rainy conditions, you'll want a glove that grips well when it's soaking wet and then dries out quickly. In cold weather, you should look for as thin a glove as you can find that still keeps your hands comfortably warm.
How can I prevent getting blisters when playing golf?
If you're getting blisters when you're playing golf, you're probably gripping the club too hard. Your clubs may need new grips to increase their tackiness.
You may need a new glove if yours has worn down too much. Or you may just need to focus on a softer grip.
If your blisters aren't from a too-tight grip, you're probably hitting a TON of balls at the driving range. Until you've developed calluses like Alex Noren, make sure you're switching to a fresh glove every couple of buckets and airing your gloves out when you're done with the session.
You might even want to look into wearing a glove on both hands if you're still fighting blisters. Some people just have softer skin that blisters up more easily.
Can I use golf gloves if I have arthritis?
Not only can you use golf gloves for grip & comfort when you have arthritis, you absolutely should. I'd suggest checking out the Bionic StableGrip reviewed above as it may enable to to play more golf than you thought possible with arthritis.