When looking for the launch monitor that the pros trust, the battle comes down between the Trackman 4 and the Flightscope X3.
Both monitors offer cutting-edge technology, accurate readings, and high-tech interactivity that provides the data to help you become a better ball-striker.
Each product also provides highly precise readings of total distance, spin rate, attack angle, and swing speed among other statistics.
In this review, we'll take a look at each launch monitor and determine which is the best for improving your game.
---
FlightScope X3 vs Trackman 4
Trackman 4
Exceptional simulator interface offers great fun and course selection
Incredible software shows differences in clubhead path and flight
Precise readings from 6-foot pitch shots to 400-yard drives w/angle of attack
FlightScope X3
Best Launch Monitor for Value
Pros
Great tool to increase your club speed while you test your maximum distances
Compact body stays out of the way when hitting the ball outdoors with your club
More sophisticated than its brother, the Flightscope Mevo
Tracks angle of attack to help flatten or raise your path to the ball
Cons
While an innovative machine, it does not reach the precision of the Trackman
Software offers challenges and a steep learning curve when using
Flightscope has been at the forefront of the golf monitor industry for many years. Their latest creation, the X3, delivers data and video with a range of features for comparison.
Flightscope X3 standard Features
3D Radar
Flightscope's 3D Radar is at the heart of the X3. By detecting ball speed along with club head speed, golfers will get a precise reading on how far their golf ball goes with a host of other units to analyze.
The radar works well, no matter what club you use, helping you increase spin and angle of attack on all shots.
MultiCam Recording
The X3 can also be used in concert with multiple cameras to create a video that looks at your angle of attack from all perspectives.
A great tool for coaches, the MultiCam feature helps takes each measure of a shot and break it down to compare the club head speed, golf ball spin, and shot quality in an easy to use portion of the app.
Wedge Improvement
Using an innovative collection tool, the Flightscope X3 also helps with wedge play.
The Wedge D-Plane offers angle of attack, club path, face angles at impact and the dynamic loft of each shot to help point to deficiencies when swinging with wedges for better golf on the course.
---
Trackman 4
Best All-Around Launch Monitor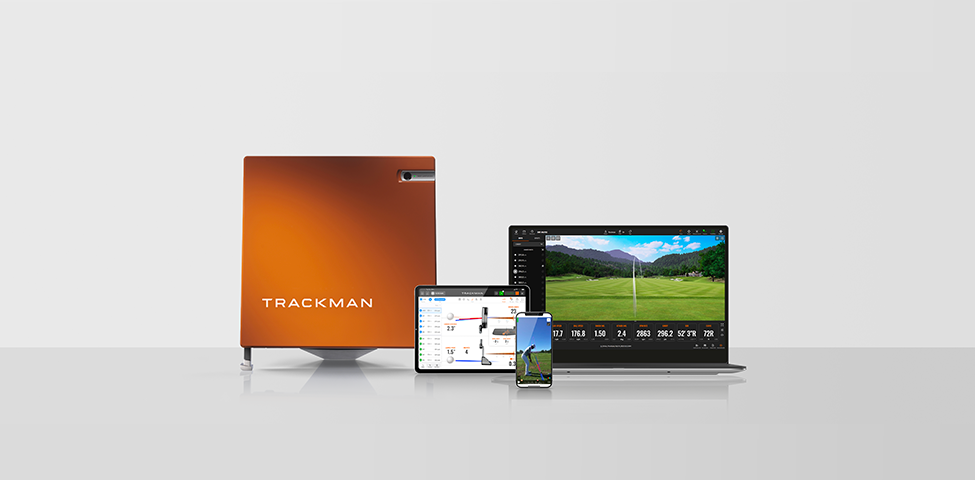 Pros
Cons
Monitor is more expensive when compared to price of the Flightscope X3
Might be too much monitor for inexperienced golfers looking for easier entry into data units collection
The Trackman 4 is the preferred monitor for PGA pros and coaches. Whether you are looking to increase distance or find a new way to enjoy the outdoor range, the 4 is the best product on the market.
Trackman 4 Standard Features
Putting
For golfers that want more than repetitive measures of their indoor swings, the Trackman also provides help with your putting.
The monitor registers stroke length, face angle, and helps show you the putting difference from stroke to stroke to increase your skills and consistency on the green.
Impact Location
Another brilliant feature of the monitor is the impact location feature. Now, the monitor registers the exact location where the ball strikes the face. When data in a unit as precise as a millimeter, the Trackman also looks at the lie angle at the point of impact.
Virtual Golf 2 Simulator
If you are looking for a monitor to help with an indoor simulator setup, then this monitor offer a very high-tech interface along with dozens of popular courses to play.
You can take out the driver and blast away at Pebble Beach never having to go outdoors or leave the comfort of your game room.
---
Flightscope vs Trackman Head to Head Comparison
Shot Analysis
For each shot, the Flightscope offers a smooth interface that allows for several angles of filming.
Each angle can offer a clear view of angle of attack, club speed, unit measure for distance, hit quality, and the differences between clubs, such as a driver.
Simulator
During our test to compare each simulator, we were floored with how easy both monitors facilitated indoors use.
The course selection on both is vast and fun, but the speed of the interface on the Trackman is hard to deny and it earns the point among these categories.
Angle of Attack
When comparing the two monitors, the angle of attack feature is one of the best collection units for amateurs looking to improve their swing.
With each hit, the Trackman offers a bit more precision against its competitor, and the differences are noticeable enough to give the advantage to the 4.
---
FlightScope X3 vs Trackman 4: Which Simulator is for You?
Use a Trackman 4 if:
You are not worried about keeping your purchase under a budget
You want the launch monitor the pros use most frequently during their workouts
You want cutting-edge technology that accurately measures a variety of important swing data points
The Trackman 4 is hands-down the most sophisticated launch monitor ever created for personal use.
Although the price is steep, for the money, you are getting an advanced system that offers premium performance and accuracy that will astound you.
Use a FlightScope X3 if:
You are wanting to stay within a lower budget compared to Trackman 4
You also want a fun simulator experience to enjoy
You want the ability to sync multiple camera angles to one video for analysis
Using the FlightScope is a real joy for the amateur golfer that wants to make their game more dependent on technology.
For a far lower price than its competitor, the X3 delivers a customizable interface, a variety of shot data readings, and an accurate radar that tracks shots with ease.