The Rundown:
Best Overall: Odyssey White Hot OG Putter
"With a premium insert that produces a quick forward roll, a clear 2-ball alignment guide, and a forgiving face, the White Hot OG is one of the best putters for high handicappers and beginners."
Most Forgiving: Seemore FGP Black Mallet Putter
"Yet a relatively unknown brand, Seemore surprised us this year with this putter. Thanks to a brilliant alignment dot system nicknamed RifleScope Technology, you'll make real progress on your putts, especially if alignment is your weakness. It's a bit pricey, but is a great choice for beginners."
Best on a Budget: Pinemeadow Golf Mens PGX Putter
"If you're on a budget, the Pinemeadow Golf Mens PGX Putter is your best choice – at such a low price, this putter has the best value for money of any model out there."
Check Out More Putters on Global Golf
There's a good reason that golf's most famous adage is "drive for show, putt for dough": the putter is by far the most-used club in your bag.
It's the one club that can salvage a bad round or ruin a good one all by itself.
The legendary Harvey Penick said the three most important clubs in your bag are the putter, driver and wedge – in that order.
The best way for you to improve your scores as a beginner is to eliminate three-putts and increase your one-putt frequency.
While the best way to get better at putting is through lessons and practice, you have to start with a putter that you can aim at your target line and control the distance of the putt with. This list of the best putters for high handicappers and beginners will help you find that perfect putter.
And in case you're wondering, we also have a list of the best putters of all time!

14
Sources researched

17,398
Customer reviews

150
Hours spent testing

9
Products tested
Featured Recommendations
Feature 1
Classic design, great sound
RifleScope Technology allows to aim with high precision
Feature 2
Gets the ball rolling fast with control & accuracy
White lines on black putterhead are great visuals
Editor's Choice
Feature 1
Classic design, great sound
Feature 2
Gets the ball rolling fast with control & accuracy
Runner-Up Choice
Feature 1
RifleScope Technology allows to aim with high precision
Feature 2
White lines on black putterhead are great visuals
Last updated on 2022-01-26. The links are affiliate links. Product images are served from Amazon Product Advertising API.
Things to Consider When Choosing a Putter
Looks
The way a putter sits behind the ball and sets up to the target line is of paramount importance when judging the effectiveness of a putter.
There are numerous different alignment lines/dots/aids, all of which are designed with one thing in mind: hit the ball in the right direction.
Some golfers want minimal alignment aids, whereas others need big long lines or prefer a unique system like a 2-ball putter or a SeeMore offers.
My judgment on looks is based on first impressions: how it looks when you pick it up, how it looks when you set it down behind the ball, how well it helps you focus on the target line, and the craftmanship involved in making the putter.
Feel
Feel might be the hardest element of putting to define. There are numerous different inserts and metals used in putters to offer golfers a wildly diverse array of feels at impact.
And on top of that, the type of ball you choose to use can affect feel as well! A rock hard distance ball like a Top Flite will feel quite different from a soft, high-compression ball like a Wilson Staff Duo.
For these tests, I used the most popular ball on the PGA Tour, a ball that actually suits a wide cross-section of players: the Titleist ProV1x.
The combination of distance, feel and spin offered by the ProV1x is the reason why it revolutionized the golf world upon its introduction and makes it a great ball to test putters with.
An often-overlooked element of feel is sound, so I've incorporated sound into this feel rating. I've used putters that made a lot of putts but had such an offputting sound that I had to take them out of play.
Roll Quality
One of the most important features of a putter is its ability to get the ball rolling quickly.
This may seem like an obvious statement, but you'd be surprised at how many putters cause the ball to skid or hop before it finally starts rolling properly.
These initial skids and hops can wreak havoc both on the accuracy and speed of the putt.
The goal is to get the ball rolling smoothly as soon as possible because a rolling ball carries a good amount of inertia and is less likely to be affected by the grain and impurities of the green.
If the ball is skidding, bouncing, or just not rolling smoothly, it's more likely to be knocked offline or come up short of the hole.
Forgiveness
You'd think that a putting stroke should be an easy, short, repeatable motion that results in sweet spot contact every time.
The putter only moves a few inches back and through, right?
Well, it's a whole lot more complicated than that. Even the best, smoothest putting strokes in the world produce mis-hits.
And in a game where the target is a mere 4.25" in diameter, precision is the name of the game.
So we're looking for putters that will produce good results no matter where on the face the putt is struck.
If you hit a sweet spot with one stroke and then miss it with the next, ideally you'd still like both putts to roll the same distance and along the same line.
A putter with poor forgiveness will leave mis-hits woefully short or bending offline.
A higher level of forgiveness equals more putts made, especially in high-pressure situations when your stroke might get a little wobbly or tentative.
Value
The last criteria here is value. Many beginner and intermediate golfers are just getting into the game and need to upgrade their whole bag.
While it's tempting to spend $600 on a driver and $400 on a putter, is it really worth it?
Scotty Cameron putters may be ubiquitous on tour, but can a $100 putter get the job done and still leave you with enough left over for a lesson or two?
With greens fees increasing every year, it's important to spend your dollars wisely.
If you're playing for big money, maybe it's worth it to splurge on a putter. But what if there's a putter out there that fits your needs for a much lower price?
Or you may be the type of player who changes putters constantly. You've got one in your bag and ten in your garage.
The putter that couldn't miss yesterday suddenly stops working, so you hop online and buy yourself a new weapon for the greens.
Either way, you're looking for a great bang for your buck! I've put in the time to make sure you're getting your money's worth.
---
9 Best Putters For High Handicappers & Beginners
Here are the best putters for high handicappers & beginners:
Callaway Odyssey White Hot OG 2-Ball Putter
Best putters for high handicappers & beginners: the most forgiving option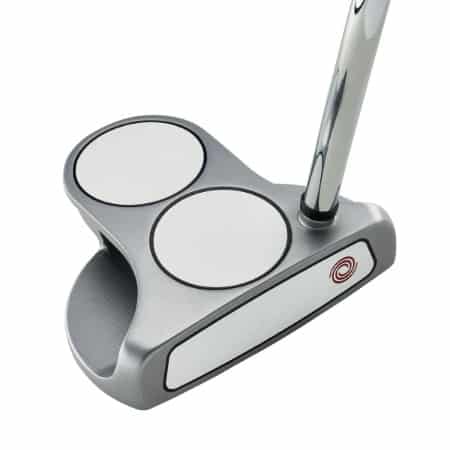 Check Price on Global Golf
PROS
Outstanding White Hot insert dampens vibration and produces exceptional feel
Wide alignment guide allows visualization of putting path
Milled surface finish offers clean, crisp, and very appealing appearance 
CONS
Heavy head produces clunky feel
Distance control tough on slower greens
The popular 2-ball design gets a facelift with the new White Hot OG putter from Odyssey and Callaway. Featuring a premium insert that produces a quick forward roll, the clear 2-ball alignment guide, and a forgiving face, the White Hot OG is easily one of the best putters for high handicappers and beginners in recent memory.
SeeMore FGP Black Mallet Putter
Best for Runner-up choice for beginners & high-handicappers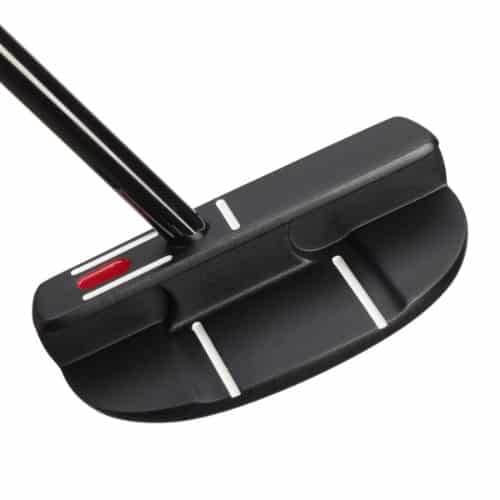 Check Price on PGA Tour Superstore
PROS
RifleScope Technology helps aim
White lines on black putterhead are great visuals
Solid feel
CONS
Some players might not like the straight shaft
Focus on alignment distracts from distance control
Not for players with forward press
Slightly clunky feel
SeeMore is a putter company that flies under the radar, despite being the putter of choice for major championship winners Zach Johnson and Payne Stewart.
The company sports a rabid but small following amongst golfers who love their brilliant alignment system, which they call "RifleScope Technology."
It's a foolproof way to get the putter face pointed in the right direction, and one that I think most golfers would benefit from.
Pinemeadow Golf Mens PGX Putter
Best if you are on a budget
Check Price on Amazon
PROS
Very affordable
Alignment design is good
The Pinemeadow PGX putter may grab your attention for looking a lot like some popular TaylorMade or Ping putters that it's modeled after.
And at a price under $50, it's awfully tempting! However, I found a few major flaws that actively detracted from the performance.
If you're looking for a budget option that actually performs and can't afford to spend more than $50, then you should consider the Pinemeadow Golf Mens PGX Putter.
TaylorMade Golf Interactive Spider Putter
The same as the PGA Players: high-tech gadgetry built into an excellent putter
Check Price on Amazon
PROS
High MOI
Makes a lot of putts
Grip sensor and Blast app can help guide your practice
CONS
Some players find the Spider head too busy
No straight shaft option
Insert too soft for some
The TaylorMade Spider has been the hottest putter on the PGA Tour for several years now.
Sergio Garcia won the Masters with it, Jon Rahm cracked the top 5 in the world with it, Dustin Johnson used it to win multiple events in a row, and even Charles Howell III broke his 11-year winless drought with a Spider.
But that doesn't mean that it's a putter specifically made for the best players in the world; in fact, there's a lot here for beginner and intermediate players to like.
Pinemeadow Black Zinc Putter
Best Budget Blade Putters for High Handicappers and Beginners
Check Price on Amazon
PROS
Very affordable blade-style putter that offers solid performance
Clear alignment guide helps you line up your putts correctly
Lightweight feel for great distance control on longer putts
CONS
Lack of insert does hurt touch on longer putts
For beginning golfers who like a blade putter, the Pinemeadow Black Zinc Putter is a dynamic choice for less than a cost of a green fee. Weighing around one pound, the Black Zinc putter has a stylish look that works well with your current club set.
For golfers that enjoy putting on an arc, the blade putter provides a smooth putting stroke. On longer putts, the Pinemeadow putter offers great distance control with advanced forward roll.
S7K Standing Putter
Best Putter for Improving Alignment
Check Price on Amazon
PROS
Stands on its own behind the golf ball to give golfer look at target line
Looks like blade putter, but feels like mallet putter with wide sole
Heavier putter head helps keep putts along the intended path
CONS
Expensive putter that helps with alignment, but doesn't have look of top-tier putters
Featuring one of the most unique designs, the S7K Standing Putter can stand on its own behind the golf ball. The putter's ability to hold in place allows you to view how the putt will break and make adjustments to the club.
The putter also boasts the look of a blade putter, but the weight and feel of a mallet-styled flatstick. By having a heavier head, the S7K provides a gentle stroke for the golfer to keep the putter along the target line.
TaylorMade Golf TP Ardmore 3 Putter
Best Weird Looking Putter
Check Price on Amazon
PROS
Innovative alignment look
Great feeling insert
CONS
Dramatic color scheme might be distracting
Would prefer less offset
The TaylorMade TP Ardmore 3 putter is one of the most interesting putters I tested this year, thanks to its dramatic color scheme and stark alignment line system.
TaylorMade tour pros have seen great success with their red putters since Jason Day started using one several years ago, so they've expanded the line to include this Ardmore 3.
However, it's not a solid red like most of the others – the dramatic white/black alignment area is a unique look.
Rife Two Bar Mallet Putter
Best For Lead-Eye Dominant Golfers
Check Price on Amazon
PROS
Excellent for lead-eye dominant players
Removable weights for multiple feel options
CONS
Trail-eye dominant players will push their putts
Overly firm feel
Guerin Rife, the man behind the EVNROLL putter reviewed earlier in this article, made his bones earlier in his career with the Rife brand.
This Two Bar design is uniquely his, and is a tough one to review because it's for a very narrow subset of players.
Odyssey White Hot Pro 2.0 Putter
Modern feel in classic designs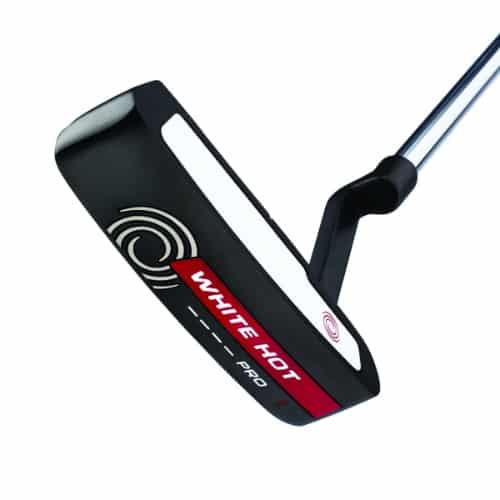 Check Best Price on PGA Tour Superstore
PROS
Tried and true designs
Great sound
Ball gets rolling fast
CONS
Insert has a love-it-or-hate-it feel
The Odyssey White Hot 2.0 line of putters is made up of several classic designs with Odyssey's iconic White Hot insert.
As Callaway's putter-specific brand, Odyssey has enjoyed several decades as possibly golf's most popular putter maker amongst pros and amateurs alike.
The White Hot insert that Odyssey is known for has been re-engineered to improve its sound and feel, and you can't ask for a better "click" at impact.
---
Questions & Answers
Should I use mallet putters or a blade?
The two most common putter head styles are the mallet and the blade. The blade is typically a small, narrow head with minimal alignment aids and a heavy toe.
Blade putters are generally used by better golfers and players with a pronounced arc to their strokes.
Blades are best suited to players who have quiet hands and hit the middle of the putter face most of the time.
Mallet putters have much larger heads and usually larger sweet spots. They're also engineered to have a high moment-of-inertia, which is the putter's tendency to resist twisting on impact.
This high MOI generally means that mis-hit putts will still start out on line and the ball will still roll out a similar distance as a perfectly struck putt.
Mallet putters are generally considered more suited to players with straight-back-straight-through strokes or strokes with minimal arcs.
They're increasing in popularity amongst all levels of golfers including on the PGA Tour thanks to their forgiveness and tendency to get the ball rolling on line.
Should I use an offset putter?​
An offset putter is one in which either the hosel is set back from where the shaft enters it, or the shaft is bent so that the putter head sits behind the grip of the shaft.
A straight shafted putter, on the other hand, is just what it sounds like: the shaft goes straight into the putter and the putter face is lined up with the shaft.
Traditional wisdom holds that eye dominance should dictate whether you need an offset putter.
If your lead eye is dominant (left eye for right handed golfers), then you should go with a straight-shafted putter. If it's your trailing eye, look for a half or full offset.
This doesn't hold true for everyone, though! I've found that for many golfers, any amount of offset will cause them to aim the putter face to the right of the target.
Many golfers see Tiger Woods, Steve Stricker and other top putters using an offset putter and thus assume that they should too, but I suggest you try out a straight shafted putter too — especially if you miss a lot of putts to the right side of the hole.
What type of grip should I use?
This wasn't a question when I was younger: basically all putters came with some variation of the iconic Ping PP58 grip: a skinny, flat-topped grip that got a little thicker at the top of the shaft.
But these days there are as many different grips as there are putter head styles: slim, fatso, mid-slim, pistol, square, super-fat, mid-fat, and so on!
So what's the right grip for you? If you're a player who likes to use your hands or uses a short, poppy stroke a la Brandt Snedeker, you'll likely want to stick to a slimmer grip.
But most beginners are actually better served to remove their hand action from their stroke.
It should be more of a pendulum from the shoulders with little-to-no hand and wrist action. Many of the new fatter grips will help you do this.
If you find yourself pushing and pulling putts with equal frequency, trying out a midsize or jumbo grip could be just the thing to get your putts rolling straighter.
Personally, I find that the fatter grips prevent me from closing the clubface, so I push all my putts with them. But a nice midsize grip quiets my hands while still getting my putts on line.
Overall, I'd say if you miss all your putts to the right, try a slimmer grip. If your putts go all over the place, try a fatter grip.