One of the biggest problems that amateur golfers face is making time for practice. It is difficult for many weekend warriors to get to the course, let alone work on their game.
Hitting and chipping golf practice nets have stepped in and become an invaluable at-home tool for these golfers. Manufacturers have mastered the art of building dependable and durable nets for golfers to use from the comfort of their homes.
If you are looking to keep your swing in shape and need an at-home solution, these 11 best golf nets offer golfers the opportunity to take control of their progress.
Featured Recommendations
Feature 1
Outstanding performance with high-quality netting and wide target area
Three-piece chipping net set offers practice variety other nets cannot provide to golfers
Large collection area makes hitting into the netting very enjoyable with no pickup hassle
Feature 2
Pop up chipping net offers three targets with two side panels for numerous practice activities
Great for large outdoor areas but versatile enough for indoor rooms to use with foam balls
Fiberglass frame provides sturdiness and will not rust or weaken if left outside
Best Overall
Feature 1
Outstanding performance with high-quality netting and wide target area
Feature 2
Pop up chipping net offers three targets with two side panels for numerous practice activities
Best Value for Money
Feature 1
Three-piece chipping net set offers practice variety other nets cannot provide to golfers
Feature 2
Great for large outdoor areas but versatile enough for indoor rooms to use with foam balls
Best Golf Hitting Net
Feature 1
Large collection area makes hitting into the netting very enjoyable with no pickup hassle
Feature 2
Fiberglass frame provides sturdiness and will not rust or weaken if left outside
Last updated on 2023-09-29. The links are affiliate links. Product images are served from Amazon Product Advertising API.
Important Features to Consider When Choosing Golf Nest
Net Quality
Net quality helps provide value and maintain durability over the life of the product. For golfers looking to purchase chipping or hitting golf nets, they need to know that the net will maintain its strength and won't lose performance.
When evaluating the quality of the net, we look at the strength, the size, and the reliability of the string used by the company.
Regardless of how the product looks or performs, the netting must hold and stop the golf balls for the safety and protection of property and other people around the practice area.
Durability

The durability of the golf nets for chipping or hitting provides value and reliability to the golfer. No one who buys golf nets wants to replace it every year.
For some practice warriors who put in long hours working on their game, their net won't last nearly as long as the amateur who breaks out their practice net once a week.
Regardless of the frequency of use, a golf net should maintain its shape and intention over a long stretch of time. When we evaluate a golf net, we measure the number of shots the practice net faces before it shows signs of wear and tear.
Construction Quality
All the golf hitting nets here are not built with the same care as others. For those golf nets that lack the premium condition of more durable golf nets, we take these flaws into account with our construction quality criteria category.
The storage and versatility of the nets are other aspects of construction quality that we look at during our testing. All golfers want a net that employs hassle-free storage, whether it be a hitting or chipping net.
A well-made golf net should possess an intelligent design and maintain a lightweight frame while staying tough during practice sessions.
Performance

While it may sound strange to think about performance with a net, golfers need for their equipment to stay in shape to help them get their game sharp for the course.
When we evaluate a net for performance, we look at everything from the design of the net to how it functions during a practice session.
Other things we note include the practicality of the net. Some chipping best golf practice nets have five different hitting areas, while some only have one.
Hitting golf nets may have reinforced targets in the center to cushion the force of full swings. But other models might only have netting across a large area to stop golf balls.
Training Usefulness

A golf net should always be useful to what you are trying to accomplish as a golfer. No matter what type of golf net you use, they should provide a utility that enables you to improve your overall game.
The usefulness of the apparatus is to stop the golf ball with consistency while maintaining durability for nets. The structure must stay strong and not lose its shape or tension during practice.
Chipping golf practice nets have a higher bar to clear than hitting nets. These smaller golf nets must have a variety that encourages and challenges the golfer to understand how the flight and height of a golf ball affect their short game performance.
Ease of use
A golf net can offer excellent ease of use with the steps it takes to construct the net. Since most nets can go up in mere minutes, golfers can find a net that cleanly breaks down after the season ends or if you need to put the net in storage.
Once the net is built, providing portability helps golfers easily move the structure to different locations.
Size
The size of a golf practice net depends primarily on the area that the net will be used. In tighter spaces, a smaller, more compact golf net will provide a straightforward practice area.
But for areas that are larger, like a backyard or outdoor garage area, a wider, deeper golf net is preferred to allow for full swing shots with woods and hybrids.
Before purchasing a net, you should measure the area you plan to place the net, so the net won't overwhelm the area.
Stability
The stability of a golf practice net is important for golfers who use their net in populated areas such as in their backyard in a crowded neighborhood.
Golf nets are grounded with stakes and then the connected poles keep the structure and netting tight to absorb the impact of each shot. Large nets need more space so golfers can take full swings for high speed practice.
Stability also reflects on the quality of the net. A cheaply made golf net does not provide the durability or reliability that most golfers value.
---
Best Golf Nets 2023
PROS
Pop up that offers three targets with two side panels for numerous practice activities
Incredible portability as the net easily folds for carrying in your vehicle to practice anywhere
Outstanding performance with high-quality netting and wide target area
CONS
Although it is tough enough to use with real golf balls only if chipping distance is less than 5 feet.
The Rukket Chipping Net is one of the best golf nets which offers golfers an enjoyable piece of practice equipment that they can use anywhere.
Great for the indoor or outdoor practice, this portable net delivers terrific performance with several target areas for dynamic workouts.
The net's pop-up design makes it very easy to assemble and requires very little storage space.
The Rukket is highly portable and setup can be done in less than 30 seconds. And with its size, you can practice even inside your office.
Although you can use real golf balls with the net, if you want it to last longer, the company suggests using practice or foam balls.
The three target areas in the net will definitely help improve accuracy.
Well-crafted and very entertaining, the Rukket Pop Up is our choice for the best chipping net in 2023 – definitely worthy of being the best golf practice net in today's market.
---
GoSports Chipster 3-Piece Chipping Nets
PROS
Three-piece set offers practice variety other best golf practice nets cannot provide to golfers
Immediate setup with minimal preparation time as all three nets travel in carrying case
Great for large outdoor areas but versatile enough for indoor rooms to use with foam balls
CONS
Smaller group of nets provide versatility, but lack strength to handle longer distance workouts
The GoSports Chipster offers golfers a fresh new way to look at practice. All three best golf nets store easily in the included carrying case for instant practice whenever the mood strikes you.
After some time, every golfer becomes bored with their practice routine. What the GoSport trio does well is provide the golfer with variety.
You can place these lightweight golf practice nets anywhere, whether you are inside or outside, their minimal setup provides a world of possibilities for your practice session.
Although they do handle the stress of real golf balls, after a few dozen sessions, you might experience some stretching of the material.
The GoSport Chipster Chipping Golf Nets allows you to use your imagination and return the fun to the practice area if you are looking to break the monotony of your short game workouts.
---
JEF Collapsible Chipping Net
PROS
Versatile golf net that easily folds for storing anywhere in your home
Numerous rings allow the golfer to fine-tune their pitching and chipping from different yardages
Excellent portability allows you to take this net anywhere with minimal hassle
CONS
Reduced size could turn away golfers that want a practice device larger and more permanent in their yard
Weighing just under four pounds, the JEF Collapsible Chipping Net offers flexibility for golfers who find themselves always on the go. The net folds easily due to its sophisticated design, making it a breeze to store in the trunk.
JEF offers two sizes. The first model measures 23 inches in diameter. The net is terrific for golfers who need to keep their practice confined to small spaces. Another version of the net measures a larger 30 inches across the frame.
The net provides three rings for golfers to shoot for during their practice time. The inner ring measures just five inches across with the middle ring stretching to a foot in width. Both inner circles force the golfer to work on precision with their wedges.
Ideal for any level or age of golfer looking to improve their short game, the JEF Collapsible provides first-rate performance coupled with durable materials and construction.
---
Callaway Chip-Shot
Best Indoor/Outdoor for Beginning Golfers
PROS
Excellent practice device featuring three smaller holes for precision practice
Durable construction quality that will last for extended period of time
Lightweight frame that breaks down and sets up in seconds
CONS
Smaller and great for indoor use, but may fall short for outdoor practice
Callaway's entry into the chipping golf net market might not win any style points, but it gives the golfer a dependable, well-crafted option worth its cost. Featuring five slots, there's plenty to accomplish when using the Callaway Chip-Shot for your workouts.
The net is over two feet long and tall, but once you are done, the product collapses to roughly 12 inches in length. This Callaway net performs beautifully in an indoor environment with foam balls for safe practice.
This net does warrant praise for the strength and quality of its netting.
Some chipping golf nets can provide weak netting that doesn't last much longer than the day the golfer brings it home. But this Callaway net uses strong nylon to stop the momentum of golf balls.
With first-rate materials, the Callaway Chip-Shot provides golfers with terrific performance and unmatched durability.
---
GaGalileo Chipping Net
Best Compact Chipping Net
PROS
No-hassle setup gets you practicing in seconds
Great portability with easy folding due to the lightweight design 
Five different practice areas to focus your training
CONS
Feels flimsy at times, specially if you use real golf balls with the net
The GaGalileo Chipping Net might win any awards for strength, but if you are looking for lightweight, quick to assemble golf nets, you've come to the right place.
The Galileo provides top-notch performance, but the five compartments give golfers a variety of practice strategies to maintain engagement.
You can use this chipping net anywhere, from indoors to outdoors, the Galileo net comes with its own carry bag for smooth storage.
If we had a chief complaint during our testing, we felt the net became flimsy when used with real golf balls. If you are buying this for a junior golfer, it might be wise to include some foam golf balls so they can practice indoors.
While it is easy to see the net's flaws, we must admit that the Galileo Chipping Net provides exceptional value for all ages and skill levels of golfers.
---
Rukket Haack Golf Net Pro
Best Oversized Hitting Net
PROS
Oversized hitting net with durable netting that can withstand high-speed shots
Lifetime warranty that includes lifetime replacement parts
The cage provides three feet of depth for hitting shots
CONS
With net measuring nine feet in height, you will need a large area to use
The Rukket Haack Golf Net Pro features the deepest cage we've seen on a hitting net at three feet. It boasts one of the strongest and best golf nets we have tested.
If your swing speed reaches well above 100 MPH, then this net can handle the speed of the golf balls you are hitting.
The five-ply net also comes with a target for the center to focus your practice session and also to cushion the force of golf balls hit at over 150 MPH.
The net's protective silicone feet also provide grip and stability if placed indoors.
The lifetime warranty with lifetime replacement parts is one technical note worth sharing.
If you have the room to accommodate the Rukket Haack Golf Net Pro, you will be rewarded with an outstanding piece of practice equipment.
---
Nova Microdermabrasion Golf Net
Best Portable Hitting Net
PROS
7-ply net offers one of the strongest golf nets we've ever tested
Excellent design with large hitting area promoting a stabile experience 
Comes with carrying case for easy travel and portability
CONS
Shallow depth of hitting cage means golfer needs more room to hit golf balls
The Nova Microdermabrasion Golf Net provides the golfer with another wide hitting area that works great in the backyard. The net's frame is built from durable fiberglass that absorbs the golf ball's shock with stability.
Golfers will love the ten-foot-wide hitting area. While we would like to see the net go above its seven-foot height, if you prepare safely, you shouldn't hit the ball over the top of the frame.
The highlight of the Nova net is the impressively durable nylon fabric that comprises the netting. During our testing, we did not notice any tearing, and the seven-ply knotless netting remained taut throughout our time with the product.
Ideal for a basement or smaller backyard, the Nova Microdermabrasion Golf Net equips the golfer with a sophisticated net that earns accolades.
---
Club Champ Golf Net
Best Outdoor Hitting Net for Golfers
PROS
Large surface area provides substantial hitting area for practice
Weather-resistant net and durable fiberglass frame
Can also be used for other sports but excels stopping golf shots
CONS
Must be used outdoors and need digging into the turf to stabilize
The Club Champ Golf Net promotes a large hitting area that gives you the ability to reach back and hit shots as hard as you want without the worry that the net will fail. The water-resistant net's strength promises a long durable shelf life.
While this net certainly provides a backstop for your shots, the simplistic design and generic netting won't exactly inspire you to work harder or longer.
You'll need to bury the lower section of the frame for the best performance, which takes a little digging.
We did like the net's versatility. The net can be used for other sports like baseball or softball due to its strong netting and unique design. This net may be a good fit for year-round use if you have a multi-sport star in your family.
---
PROS
Great heavy-duty netting for DIY Setup in garage, game room, or backyard
Finely woven netting to contain golf balls
Large target in center of netting for alignment
CONS
Must be used outdoors and need digging into the turf to stabilize
For golfers looking to create their own do-it-yourself golf hitting setup will find that the Cimarron Sports Golf Net offers a premium experience.
With tight woven netting that easily contains all shots, the Cimarron net also features a large center target that helps with alignment.
Great for the backyard, garage, or game room, the heavy-duty Cimarron net will provide durability and safety to your new hitting area.
---
The Net Return Pro Series V2
PROS
Outstanding premium materials with quick setup
Guaranteed to last 250,000 shots 
Great for indoor and outdoor use
CONS
Must be used outdoors and need digging into the turf to stabilize
For golfers looking for a luxury training experience, The Net Return Pro Series V2 offers an impressive array of features including a five-minute setup.
Great for indoor or outdoor use, the Net Return provides an automatic ball return along with a net that offers a 250,000 shot guarantee.
Great for multiple sports, the Net Return V2 delivers the best experience when using to improve your golf game.
---
Spornia SPG-7 Golf Practice Net
PROS
Multi-use net, great for hitting, chipping and putting
Automatic ball return system gently rolls ball back to your spot
Net absorbs full-speed shots safely
CONS
Must be used outdoors and need digging into the turf to stabilize
Spornia SPG-7 Golf Practice Net delivers a wide array of exciting features including an automatic ball return, outstanding multi-use net that works well with hitting, chipping, and even putting.
The large target area, measuring 25 square feet, helps absorb full-speed shots, along with helping with alignment at address.
Great for serious golfers, the SPG-7 provides marvelous resource for golfers looking to improve their game from home.
---
3 Tips to Practice Effectively with a Golf Net
Quality Over Repetition
Too many golfers get a hitting net and just spend their time smashing balls into the net over and over with no real plan on how to use the apparatus to improve their game.
By using a high-quality mat, in concert with a specific and clear practice plan, that can replicate the feeling and consistency of real grass, you'll find that your impact with the golf ball mirrors the experience of being on the course.
Focus on Striking
One of the biggest tips for amateurs using a golf net is to take the practice time seriously.
Rather than blasting away with the driver, inexperienced players can improve by utilizing the net to fine tune specifics such as cleanly addressing the golf ball, working on tempo with each swing, and creating a pre-shot routine that focuses the mind and body before the shot.
The golf net can be a great tool to learn the mechanics of the golf swing, and reduce the errors contained in your own, but that takes patience and the ability to focus on making the most of the practice time with the net.
Use With Technology
Another great way to maximize the convenience of the golf net is by filming your swings and using the footage to correct your mistakes.
Whether you learn the mechanics of the swing, or use the help of a professional coach, the hitting net can provide the information they need to help minimize the flaws from your swing.
Another way to use the hitting net is with a launch monitor that takes reading on swing speed and other important data points, enabling you to increase the areas that are deficient in your game.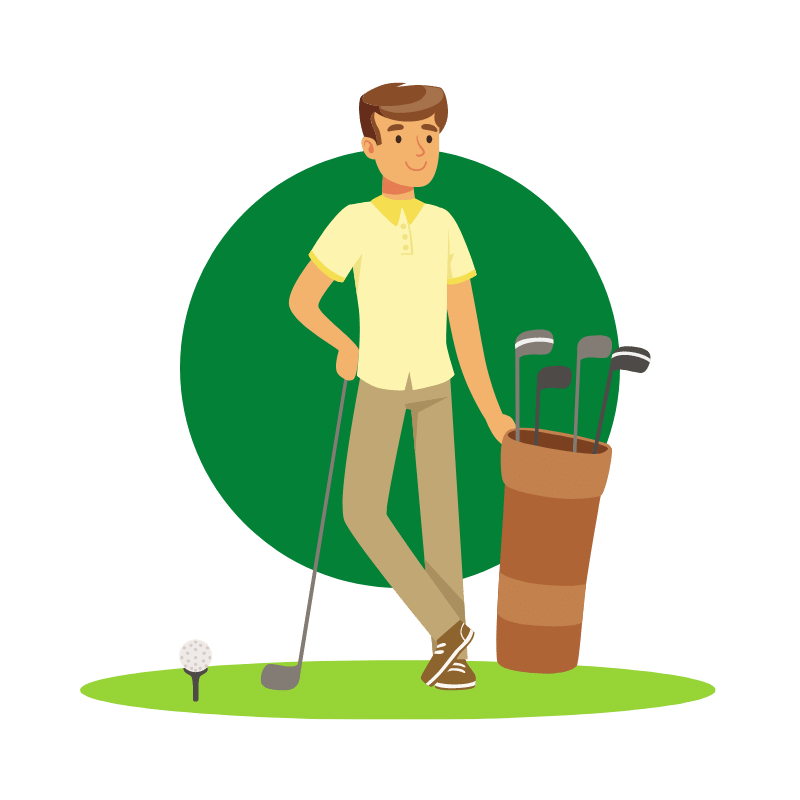 Frequently Asked Questions
Where should I set up the mat?
The decision as to where the best place is to set up your hitting mat depends solely on what your house and property allow. If you own a large home, then a garage or interior playroom with tall ceilings are safe options to place your hitting mat.
Some golfers prefer an outdoor area because it provides a wider area to freely swing the club and it does not disturb the rest of the home. Regardless of where you put the hitting nets, always put safety first for yourself and those around you.
Chipping nets, on the other hand, need more property than a hitting net to get the maximum benefit from the equipment.
Are there nets with sides attached?
Yes, there are nets with sides attached available for golfers, including many on our best golf nets list. Most golfers that use hitting nets for practice have found the benefits of using a deep net with elongated sides that catch balls after they strike the center of the net.
Other nets, that negate a side panel, prefer to offer a looser net that absorbs the ball after it leaves the club.
While that method is effective, it is harder for golfers to see the impact point and also makes retrieval harder since the golf balls must be removed from the excess net.
Is it possible to use my golf net for other sports?
Although the net is made for golf, it can be used for other sports. Some baseball players, for example, will use the nets to not only practice hitting off a tee but also to catch throws or help them corral pitches they make from various distances.
Much like for baseball players, a high-quality hitting net with a wide opening can also be used for football fans by catching throws and offering a target to measure accuracy.
While not all golf hitting nets can accommodate these extra activities, well-made, high-strength nets can withstand the punishment of these impacts.
---
Conclusion
Whether you are in the market for golf gadgets to improve your short game or boost your swing speed, golf equipment companies have definitely upped their game when it comes to producing high-quality hitting nets.
While our best golf net went to the Rukket Chipping Net. Due to its durability and enjoyment level, the GaGalileo Hitting Net easily outdistanced its competitors to take the top spot for our favorite hitting net.
If your game is in need of finetuning, or you are a golf junkie that just cannot make it to the range every day, the addition of a well-made chipping or hitting golf net can keep your game sharp year round.