Callaway Paradym Irons release date: February 24, 2023
Callaway's latest iron creation, the Paradym irons, arrived on the market with much fanfare. Built for power and speed, the standard Paradym set offers incredible forgiveness on mis-hits.
What's creative about the new Paradym iron is that Callaway has given the club the look and feel of a player's distance iron in a game-improvement iron package.
As a result, amateurs will find that the Paradym irons offer exceptional power in the long irons with a high, soft descent angle in the short irons.
In this Callaway Paradym Irons review, we'll deliver our verdict on what makes these irons such an exciting release from Callaway and how your game could benefit from these sturdy golf clubs.
---
Callaway Paradym Irons
Best Game-Improvement Irons for Increasing Ball Speed
Check Price on Amazon
Check Price on PGA Tour Superstore
Check Price on Global Golf
Specifications
Loft: 20°-42°
Shaft Length: 35.75"-38.875"
Lie Angle: 61°-64°
Swing Weight: D1
Pros
Low tungsten weighting boosts launch
Refined shaping increases workability
Dynamic feel and responsiveness at impact
Cons
High handicappers will find irons are tough to hit
---
Callaway Paradym Irons Features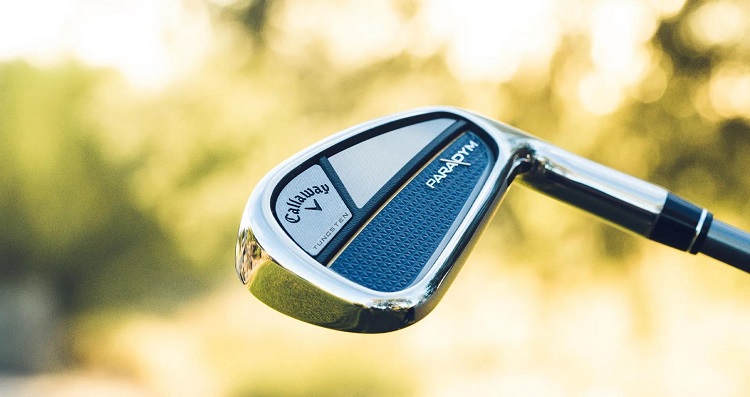 A.I. Forged Face Technology
Aided by Artificial Intelligence, the latest Callaway set provides the performance of a player's iron with the forgiveness of a game improvement model.
On off-center strikes, this Callaway iron maintains speed and keeps the shot along the target line with tight shot dispersion due to the Flash Face Cup and outstanding Forged 455 Face.
Hollow Body With Speed Frame Construction
The hollow body design helps increase exit velocity for golfers by lightening the overall weight of the iron head.
The strong Speed Frame construction keeps the face thin for boosting distance and increasing energy transfer.
Urethane Microspheres
The Urethane Microspheres enhance flexibility, boosting forgiveness and increasing soft feel across the hitting area.
While other models stiffen the face to raise overall distance, Callaway utilizes the microspheres to reduce side spin and produce better sound and feel.
---
Our In-Depth Callaway Paradym Irons Review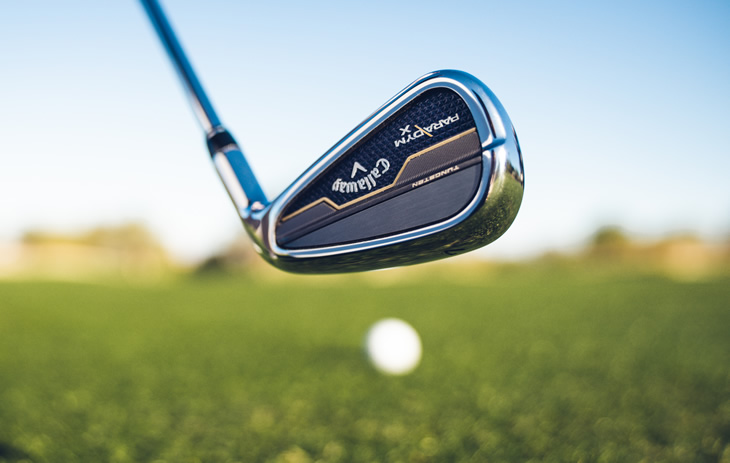 Looks
Over the golf ball, the Callaway Paradym Irons offer a compact blade length that looks smaller than the Rogue ST Max set. With some crossover from last year's Apex DCB, the Paradym set keeps the blue, black, and gold color scheme.
While not our favorite 2023 iron for looks, the Paradym set won't have you feeling disgusted when they are sitting in your golf bag.
Sound
At impact, shots with this Callaway set offer a clean, crisp sound that won't hit your ears with an unappealing heaviness.
If you are looking for a smooth sound that immediately lets you know that you've hit an excellent shot, the Paradyms offer outstanding feedback.
Feel
Like the Rogue ST Max steel set, this collection delivers high-grade responsiveness and instant feedback to help you make adjustments on the fly.
Callaway's patented Urethane Microspheres also help absorb impact, reduce harsh sound, and minimize overall vibration to produce an outstanding feel.
It's also worth noting that Callaway installed a pre-worn leading edge in this iron set. The altered leading edge makes it easier to move the face through the impact zone and dramatically improves turf interaction, boosting feel tremendously.
Performance
Our testers were impressed with the overall performance Callaway has brought to the table with the Paradym set.
The Paradym set offers a True Temper Elevate steel shaft and an Aldila Ascent PL Blue and Hzrdus Silver option for players wanting graphite shafts. All irons come with a Callaway Universal grip.
Players can grab anywhere from a five-club set to an eight-club collection, starting with a 4-iron and ending with a gap wedge.
Callaway also placed dual Tungsten weights along the perimeter of the iron head to move the CG deeper, providing more balance to the face as it moves through the turf. The weights also increase shot flight to generate more spin that stops quickly on the green.
With stronger lofted irons, doubt can start to creep in because it looks like there's too much loft with a mid iron, but with this set, the power wins out, and after a few swings, you fall in love with the Paradym's launch conditions.
The thing with game improvement irons is that they can be blunt instruments delivering a truckload of power without much finesse. With one swing, you could hit your 7-iron 150 yards, and then the ball goes 180 yards on the next swing.
Sets like this one from Callaway hold game improvement designs, built to give double-digit handicap players fast ball speeds and higher ball flight. So, if you are judging these Callaway Paradym irons through that lens, then they are very, very successful.
---
Other Callaway Paradym Iron Models
Callaway Paradym X Irons
Best Callaway Irons for High Handicappers

Check Price on Amazon
Check Price on PGA Tour Superstore
Check Price on Global Golf
Specifications (4-PW)
Loft: 18.5°-41°
Lie: 61°-64°
Shaft Length: 35.75"-38.875"
Swing Weight: D2
PROS
Stronger lofts deliver longer distance
Forged feel with exceptional spin and distance control
Forgiving head shape minimizes penalty on off-center strikes
CONS
Oversized head doesn't offer much sophistication
Built for beginners and high handicappers, the Paradym X irons from Callaway offer a larger model for casual players wanting more control, a better feel, and a higher flight than you'd expect from an elite club set.
Made for high handicappers needing an easier iron to hit, the Paradym X set provides a lower CG for quick, high launch that extends carry and provides you with confidence.
The muscular design also delivers hearty turf interaction that powers the golf ball for high launch monitor readings.
On off-center strikes, I found the Paradym X kept my shot closer to the target line with its broad hitting area for a cleaner, tighter dispersion.
The club head does come with a thicker topline and a wider, more forgiving sole. So I found the Paradym X set remains accessible to a wider array of players, regardless of handicap.
Made for inexperienced players that want more from their iron play, the Paradym X delivers exceptional all-around performance.
---
Callaway Paradym X Women's Irons

Check Price on Amazon
Check Price on PGA Tour Superstore
Check Price on Global Golf
Specifications (4-PW)
Loft: 18.5°-56°
Lie Angle: 61°-64°
Shaft Length: 34"-38.875"
Weight: C5
PROS
Helps increase distance and offers boosted launch
Offers more offset
Has wider soles and greater forgiveness
CONS
Tougher for high handicappers to hit consistently
Callaway has produced a Paradym X set for women to help increase distance. Each iron in the X collection offers more offset, wider soles, and greater forgiveness over the standard set.
The Paradym X Women's set offers boosted launch, similar to the Rogue ST Max set, for golfers that need more distance.
---
Alternatives to the Callaway Paradym Irons
Ping G430 Irons
Most Forgiving Irons for Mid Handicappers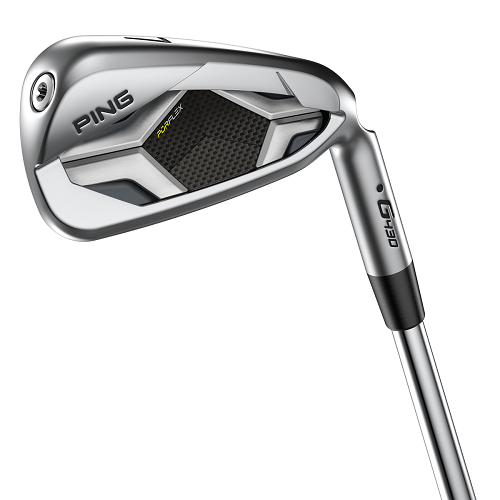 Check Price on PGA Tour Superstore
Check Price on Global Golf
Specifications
Loft: 19°-41°
Shaft Length: 35"-38 7/8"
Lie Angle: 60.5°-64.1°
Swing Weight: D0, D0.5, D2
Pros
Thinner face increases distance with elevated ball speed
Lower CG helps stabilize shots low on the face
Excellent performance in wet conditions
Cons
Funky Ping design might not appeal to traditional golfers
The Ping G430 iron set is an impressive set of golf clubs that deliver excellent distance, accuracy, and forgiveness on every shot.
The irons feature a sleek, modern design, the company's custom tuning port, a high-strength steel face, and a multi-material head that dampens vibrations for a smooth feel.
The clubs also have a large, forgiving clubface and a low, deep CG, which helps golfers hit the ball high and straight, even on off-center strikes.
When I compared the Paradym clubs to the Ping G430 set, the Callaway iron offered more distance with a forged shape. The Paradym set isn't as forgiving as the Ping G430, as it requires more precision and skill to hit consistently.
The Ping G430 offers an impressive option for advanced golfers who want a high-performing iron set that is easy to hit and provides consistent results.
Check our full Ping G430 Irons Review
---
Cobra Aerojet Irons
Best High Launch Irons for High Handicappers

Check Price on Amazon
Check Price on PGA Tour Superstore
Check Price on Global Golf
Specifications
Loft: 18.5°-41.5°
Shaft Length: 36"-39.25"
Lie Angle: 62°-65°
Swing Weight: D1, D1.5
Pros
Low, deep CG with high trajectory
Variable thickness across the face boosts forgiveness
Boosted face flex increases ball speed
Cons
Longer blade causes inconsistent strikes in high handicappers
The Cobra Aerojet iron set is a top-of-the-line set of clubs that offer exceptional performance and precision for golfers of all levels.
It has a forged carbon steel body and a unique weighting system that delivers maximum power and control on every shot.
When I compared the Aerojet set to the Paradym irons, the Cobra Aerojet set stands out for its dynamic performance and feel.
The Aerojet irons offer a more forgiving design and greater distance, making them a better choice for golfers looking to improve their game.
Designed with precision and control in mind, the Aerojet set also delivers accuracy and distance.
Overall, I feel the Cobra Aerojet iron set is an excellent investment for golfers who are serious about improving their game and want a set of irons that can deliver exceptional performance on the course.
Check our full Cobra Aerojet Irons Review
---
Our Verdict
After spending time with the Paradym irons, we can confidently say that if you are an avid golfer dying to get more length from the fairway, this set should be at the top of your list.
Built like a tank with strong lofts, these Callaway irons can blister a golf ball and help you attack the pin more frequently.
With minimal offset and a clean top line, the Paradyms look fantastic and sound great on shot after shot.
Best for mid handicappers looking for more speed, the Callaway Paradym iron offers first-rate spin to help you stop the ball cold on the putting surface.
Delivering confidence-inspiring results, you will find the Paradym set produces a significant distance increase over their current set.
We recommend you check our in-depth review of the Paradym series: