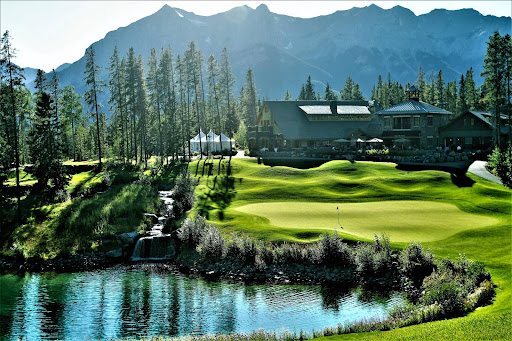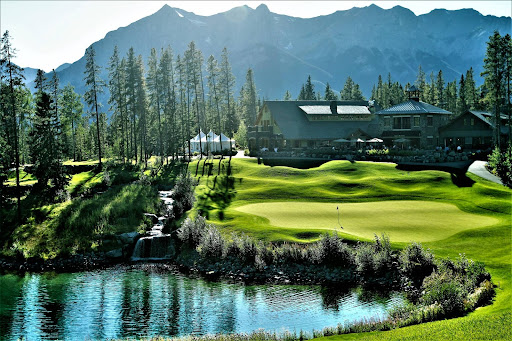 Silvertip Resort is located right in one of the most beautiful areas on earth – the Bow Valley in Canmore, with a spectacular view of the Canadian Rockies from just about everywhere in the resort. 
As stunning as it is, this isn't a resort for just anyone. It's very much a golfer's paradise, so if you're looking for the ideal resort for a golfing weekend, a romantic few nights with golf on the side, a business conference, or just want to tick off an amazing course on your bucket list, this is a superb choice.
It's important to note that although plans are in place to build a state-of-the-art hotel at Silvertip, there are no accommodation options on-site.
But there are plenty of lovely places to stay in town, which is just a stone's throw away from the rolling greens of Silvertip Golf Course.
Let's take a closer look at Silvertip Golf Course and all the things that make it such a wonderful place to spend some time.
Quick Overview 
Holes: 18 
Par: 72 
Yardage: 7,140 yards 
Course Type: Resort/mountain 
Designer: Les Furber 
For who? Public 
Availability: Book in advance 
Dress Code: Proper golf attire 
Driving Range? Yes 
Chipping Area? Yes 
Putting Green? Yes 
Club Rental? Yes 
Cart Rental? Yes (included in green fee) 
Metal Spikes Allowed? No 
Caddies? No 
Events? Yes 
Course Conditions & Layout
Silvertip was named after a rare type of bear, and the course layout definitely fits that sort of description! Grizzly bears often appear rough, tough, and intimidating, and that's pretty much what you'll get here.
Don't be put off, though! Silvertip is a fantastic course, which has been called more of a "golf experience" rather than simple gameplay. However, with more than 600 feet of elevation changes, it's not just a straightforward course. 
Trees are many along this course. Being a Designated Audubon Cooperative Sanctuary, you can count on amazing encounters with nature at any given point as you make your way through the course. 
It's kept in pristine condition all year round, so whenever you need to get away, plan a team meeting, or if you're looking for a venue for a special occasion, it's ready to go.
Game Play 
Despite being a monster of a course, it's actually quite suitable for golfers of all abilities. Every hole has a risk/reward gamble, which means advanced players will enjoy the exciting challenge.
However, there's also a safe way to play every hole, so beginner golfers will also be able to have an enjoyable and decent-scoring round. 
You won't find many forced carries on this course, although there are tricky dog legs, strategically-placed water hazards, and sand traps. 
In general, it's nothing crazy, but it requires a good bit of strategy, precision, and patience to get a great score here at Silvertip. 
Signature Hole 
Although the course doesn't have a particular signature hole, holes 2, 13, and 18 are commonly considered the signature ones of the course. 
Hole 2 is one of the most photographed on the course, and for a good reason. It's a downhill par-5 that's shorter than it looks, and you have a stunning view of the Three Sisters in the background.
Another elevated tee with a spectacular view, the par-4 13th hole, is more challenging than it looks! The L-shaped 18th is tricky but offers a lovely view to finish off with.
However, most golfers who've played here consider the picturesque par-4 4th hole to be their favorite.
It looks fairly straightforward from the elevated tee boxes—a long shot down the middle to a less protected green. However, once that ball leaves your club, you soon realize it's more complicated than it looks. 
You'll need to keep the ball dead center to avoid landing in the water on the right-hand side of the right-side bunker closer to the green. Stray too far to the left, and you'll lose your ball in the trees. 
And, of course, you'll be able to glimpse the Canadian Rockies in the background as you play, making the atmosphere much more majestic. 
Facilities
The golf course isn't the only amazing thing to look forward to here. Golf facilities abound, but so do decadent dining options and venues to suit your every kind of event.
Practice/Coaching Facilities 
Weather permitting, Silvertip provides practice facilities for all grass hitting—driving range, chipping green, and putting green.
Of course, just like being out on the course, you'll have the picturesque Rocky Mountains in the background, making this one of the most beautiful spots in the country for a bit of golf practice! 
If you're in the market for a bit of coaching instead of just shooting it out on the practice grass, the resident Teaching Professional, Scotty Holland, is always ready with a smile and great advice. Another PGA of Canada professionals available for lessons is Head Professional Chris Cooke and Assistant Professional Keenan Vanderkooi.
You'll get a lesson tailored to your ability and goals, or you can put together a few friends or family members for a group lesson instead. A fun way to bond! 
Dining 
Golf isn't the only spectacular part of this resort. Once you've tasted the food, you'll never want to go back to home-cooked meals! Two fantastic dinner options await you after your round of golf. 
Rustica Steakhouse offers dinner only and is for the truly hungry. They specialize in 100% Canadian Prime steak—the best of the best. It's upmarket dining at its best, so dress the part!
Stoney's Bar & Grill has a more laid-back atmosphere and offers lunch and dinner. Casual dining and views of both the fairways and the mountains make this the place to be for those who want something a little less fancy. 
The Patio overlooks the 18th hole, so you can watch golfers finish up in triumph or agony as you enjoy one of their delicious and expertly-prepared meals. Both restaurants have Patio seats available, so you can get your particular meal craving with this spectacular view.
Events 
Silvertip Resort is the ideal location for team-building events, conferences, parties, and weddings.
The resort is decked out with all the facilities you could possibly need for whatever type of event you're hoping to host.
And of course, golf is ever-present, and it's an ideal activity for colleagues to get to know each other a bit better, the groom's party to bond before the wedding, or just a bunch of friends to hang out and have some fun.
Whether golf is a part of your event or not, the stunning views of the course and the mountain backdrop make this a superb choice for your important day.
Final Notes 
Silvertip Resort has it all, whether you're a golf nut looking for a challenge or a corporate organization searching for the perfect place for your next conference. 
Whatever your reason for visiting, golf is the main attraction, and it's absolutely worth the round. No matter how many other courses you've played before this one, you'll find Silvertip forever memorable, for only good reasons!