How Much Do PGA Caddies Make?
---
Being a PGA Tour caddie is a lucrative job that can pay quite well if you work for one of the top players.
There is no limit to how much a PGA Tour golfer can compensate their caddie, so it all comes down to negotiations between player and caddie.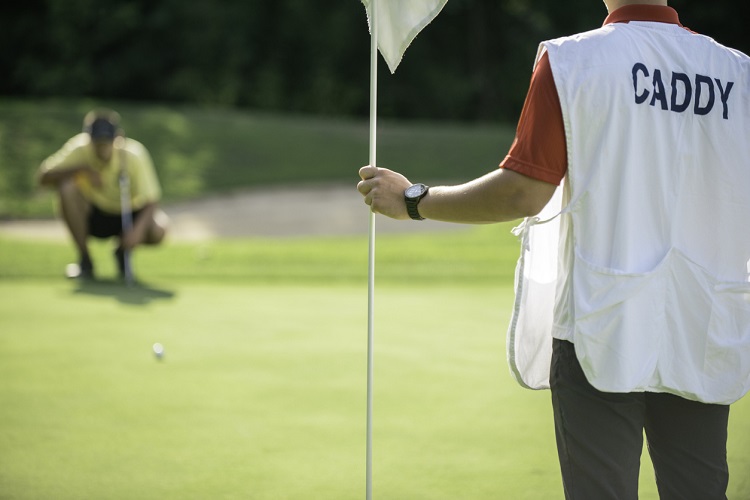 Top caddies on the PGA Tour can command high five-figure or even six-figure salaries depending on their experience and the caliber of player they work for.
Golf Digest said the average PGA Tour caddie salary in 2019 was around $100,000. However, that number is skewed by the top bag handlers who work for the highest-ranked players and earn well into the six figures.
For example, when they were together, Phil Mickelson's long-time looper Jim "Bones" Mackay was rumored to make around $1 million annually. Jimmy Johnson, Justin Thomas' caddie, made well over 500,000 during the golfer's major championship run in 2022.
For this article on answering the question of how much do caddies make, I'll dive into the details of a caddie's average salary per tournament and season.
What is a PGA caddy responsible for on the golf course?
---
To earn their salary, a caddie must help a professional golfer play to the best of their abilities. Most caddies are very close members of a golfer's most trusted advisors.
Most pros pick their caddie after other PGA players refer to the caddie they have experience playing with during previous seasons.
A caddie is responsible for several things on the course, including placing everything players need in their bags, such as golf balls and other golf gear like clubs.
Many caddies offer advice for the golfer's upcoming shots and additional tasks, including raking bunkers, cleaning clubs, and fixing divots and ball marks.
Professional caddies are also responsible for replacing flagsticks and double-checking scorecards.
How much do PGA caddies earn per win?
---
For most PGA Tour caddies, having their player win a tournament can provide an avalanche of money that dwarfs their regular weekly salary.
With the introduction of LIV, some PGA tournaments now offer a purse with up to $20 million in prize money, helping a caddie make even more if the player wins a top-ten finish or even the top prize.
Routinely, PGA Tour players can also add an additional payment at the end of the year for their caddie if they've had a successful year.
How much do PGA caddies earn per tournament?
---
When professional golfers win an event or make a cut, many caddies earn 10% of the total winnings.
Additional income sources for a golf bag handler are weekly salaries during tournaments, usually several thousand dollars, plus bonuses they may receive from players for high finishes.
While the profession's elite earns very high wages, even caddies for less successful players make a solid living with salaries in the high five to low six figures range that can grow when their golfer wins.
How much do PGA caddies make a year?
---
The annual income of PGA Tour caddies can vary greatly, ranging from around $20,000 for the bag handlers of less accomplished golfers to over $1 million for caddies working for the sport's top players.
On average, PGA caddies earn between $50,000 to $100,000 annually.
The major factors determining a caddy's earnings are the performance and tourney winnings of the player they work for. The standard payment caddies receive is 5-10% of the golfer's prize money for tournaments and wins.
For example, 5% of a $1 million tournament purse would be $50,000 for the caddy. Caddies for the highest-ranked golfers can also earn seven-figure salaries, as these players make millions in prize winnings and endorsement deals.
However, if a player misses the cut, a caddie only makes their weekly stipend, covering their travel and hotel costs and their own expenses.
PGA caddies have the potential for very high earnings but must rely heavily on the play of their golfers, with annual incomes ranging from tens of thousands to over a million dollars.
How much does Tiger Woods pay his caddie?
---
Since Tiger doesn't regularly play on any professional circuit, he pays his caddie tourney by tourney. But during his prime, Tiger Woods paid his excellent caddie, Steve Williams, well over seven figures per year.
With Woods' successful run starting in the late 90s and running over the next ten years, Steve Williams grossed far more than the average PGA Tour-level caddie.
Woods recently gave his longtime caddie, Joe LaCava, a blessing to move over to the bag of Patrick Cantlay.
Although Woods reportedly paid LaCava a retainer while injured for his loyalty of sticking with the 15-time major winner, his move to Cantlay's bag allows him to make ten percent of the player's winnings at each PGA Tour event.
How much do regular caddies make at country clubs?
---
Compared to what PGA Tour caddies earn, many country clubs pay the average caddie around $20 per hour. Most caddies that carry bags at this level also can make more with tips from members and other golfers that visit their golf course.
With an early tee time, a caddie can carry the bag for two rounds per day, boosting their overall salary.
At higher-end golf clubs, a caddie can make a weekly salary of well over $1000, especially in the summer.
For high-level golf, the best caddies can make a comfortable living that stretches well into the mid-six figures. Not only do they get their travel expenses paid for, but the caddies are also covered for hotel and meals during the tournament.
Since there's an advantage to keeping a knowledgeable caddie on their bag, PGA Tour golfers routinely maintain a relationship with their caddies over many years.
Having a longtime caddie provides a relationship that can help professional golfers earn more money, helping PGA Tour caddies make more money.
So when it comes to answering the question of how much do caddies make, several factors play a part, although the biggest source of income comes from how their golfer performs.